by Nadine Salib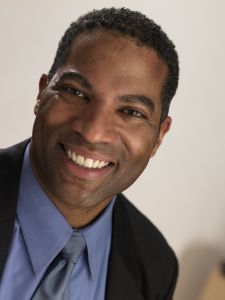 On October 10, Dr. David Maurrasse visited UEP to speak with students in Lorlene Hoyt and Rob Hollister's Anchor Institutions seminar. Dr. Maurrasse shared his work with Marga, Inc. and his views about the importance of anchor institutions. He founded Marga Inc. in 2000 to provide strategic advisory services and perform research for philanthropic initiatives and community partnerships. With the University of Pennsylvania's Netter Center, Marga helps coordinate the Anchor Institutions Task Force (AITF), a community of academics and institutional leaders that disseminate knowledge and help create meaningful institutional partnerships. The AITF, which Maurrasse directs, provides resources to enduring institutions, such as universities and hospitals, to promote economic development, improve health conditions, and increase educational access, among other services. According to Dr. Maurrasse, anchors can be leveraged for economic and community development to strengthen neighborhoods, cities, and regions. He explained that while anchors are objectively rooted, they are not necessarily actively engaged in their local communities or contributing to their economic improvement.
Maurrasse highlighted Marga's role as a catalyst, bringing expertise and support to nurture and sustain effective partnerships and alliances. Marga also provides advice, strategic thinking, coordination, and administrative services. He explained that the funding, skills, and experiences required to improve our world have not been fully coordinated on the local level. Philanthropic organizations have begun to respond to complex local needs, and they are adopting ideas and approaches that will help them be more deliberate and effective. However, today, having a greater global impact requires a combination of philanthropy and partnerships that includes the coordinated participation of government, corporations, universities, and other institutions. The resources required to make major societal improvements are all around us. The challenging part is how to make those resources work together for the greatest benefit. It is Marga's mission to strengthen common interests across these organizations and shape mutually beneficial strategies to produce better results. The Newburgh Partnership in New York, which had its origins in a PILOT initiative, is an example of a multi-anchor partnership that combines resources and expertise to address a wide variety of community issues.
Dr. Maurrasse also spoke about the Civic Opportunity Initiative Network (COIN), a coalition of young people, community based organizations (CBOs), institutions of higher education, and philanthropists dedicated to promoting civic engagement. This is done through improving access to schools and higher education, promoting civic engagement and strengthening community-based organizations. The goal is to educate and empower young leaders to pursue successful careers by sustaining CBOs at the grassroots level and strengthen ties to their communities. We need networks like COIN because they help develop clear pathways to higher education for low-income students through experiential learning. COIN is the only longstanding national foundation with a grant-making portfolio dedicated to promoting the engagement of anchor institutions in their surrounding communities.
Dr. Maurrasse also emphasized the work of the Anchor Institutions Task Force (AITF), coordinated by Marga, which was founded in 2010 by way of a collaborative report for the U.S. Department of Housing and Urban Development (HUD). This group continued to convene as an organization to develop and disseminate knowledge to help create and advance mutually beneficial anchor institution-community partnerships. The initial report, coordinated by the University of Pennsylvania, advised HUD on how they could increase their impact and strategically leverage anchor institutions, particularly higher education and medical institutions, to improve communities' conditions and help address significant urban problems. Community revitalization and redevelopment requires a greater alignment of policy and institutional commitment with community-based organizations and private resources, such as foundations. Efforts to leverage the resources of anchor institutions to address societal needs have been on the rise, particularly within colleges and universities, which bring a wide range of resources (e.g., financial, physical, and human) and maintain deep-rooted commitments to their localities. The Task Force is an individual membership organization. Individuals can join free of charge if they agree with the principles outlined in the statement of the Task Force, but Institutions themselves cannot join. The Task Force is designed to develop and disseminate knowledge and function as an advocacy and movement-building organization to advance democratic, mutually beneficial anchor institution-community partnerships. AITF wants institutions to make deep commitments and absorb the values of community engagement; it does not want to do the heavy lifting for them. The AITF has grown to over 400 academic and professional members that are leaders of and partners with anchor institutions. The role of higher education was central to the creation and growth of the AITF. Its annual conference this year will take place on 11/17-18 at the University of Chicago.
Nadine Salib is a Research Assistant at the Talloires Network. She is pursuing a Master's degree in Public Policy at the Department of Urban Environmental Policy and Planning at Tufts University.