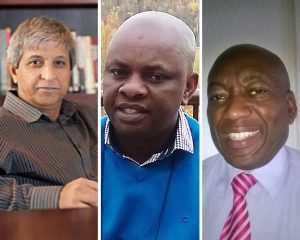 This month's edition of the Leaders in the Civic Engagement Movement series features three leaders from two universities in South Africa, site of the 2014 Talloires Network Leaders Conference. The University of the Witwatersrand and the University of Venda are engaged universities with innovative efforts to reach the communities around them.
Joseph Francis, Director of the Institute for Rural Development (University of Venda): Interviewed by Barbara Shepard-Kim, Dr. Francis says of his program Amplifying Community Voices (ACV): The ACV endeavors to "take the university to its rightful owners – grassroots communities" by creating all-inclusive decision making platforms. Dr. Francis strongly believes that "when we are discussing any issue that is affecting a village we need to ensure that the voices of children, youth, women, men and leaders are captured in the process." Full interview.
Adam Habib, Vice-Chancellor and Principal (University of the Witwatersrand): Habib, a featured speaker at the 2014 TNLC, is an academic, activist, administrator, and renowned political media commentator and columnist. In his interview with Lorlene Hoyt, Habib expresses: "Volunteering plays a valuable role in shaping how students learn to interact with their community, define public problems, develop their social skills and value systems, and develop a sense of empowerment to take action on behalf of the common good. Volunteerism is necessary to become an active citizen." Full interview.
Thabo Putu, community partner and former Programs Coordinator, Community and University Partnerships (University of  the Witwatersrand): In his interview with Kim Etingoff, Putu describes himself first and foremost as an activist. To engage with the community, "You have to take students out of the university campus to the community, community members are not able to access to the university easily," he says. Full interview.