by Matias Ramos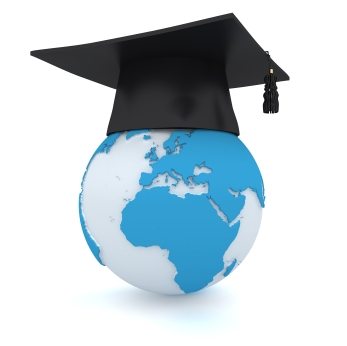 The academic year is underway, or about to start, in most parts of the world. Talloires Network member universities are recruiting their faculty, staff, and students to make an impact in the communities around them. In this new blog series, we will be highlighting news from around the world related to higher education civic engagement, student entrepreneurship, community-based research, and all the topics that bring the minds and hearts of our coalition together.
In the Middle East / North Africa area, two universities are highlighting the growing concern for civic service in their campuses. In Lebanon, the marketing department of the Lebanese American University have chosen to highlight the work of Elie Samia, the university's asssistant vice president of Outreach and Civic Engagement (OCE). Samia talks about the opportunities and challenges of working at a rapidly growing university that now enrolls more than 5,000 students after first opening its doors in 2010:
"To me, (civic engagement) means diligently and passionately focusing on instilling our university community with the values of appreciating diversity and building bridges across differences; behaving with civility even in controversial situations; actively participating in public life; nurturing a sense of social responsibility; a willingness to assume leadership roles and to join organizations engaged in improving society; and openness to learning from others and developing informed perspectives on social issues."
In Egypt, the American University in Cairo is reaffirming its commitment to ensure students who are local civic servants have opportunities to afford a college education. The university-administered "Empower" scholarships will reward five top students from Assuit, Beni Suef, Menya, Sohag, and Fayoum. Winners will be selected based on demonstrated civil society or community service, as well as top academic performance:
"The scholarship represents a major investment by AUC in Egyptian youth from Upper Egypt who have high academic potential and are eager to serve their communities but need financial assistance to pursue their studies at AUC," said Sohair Saad executive director of the Office of Student Financial Affairs and Scholarships.
Elsewhere in the region, a group of scholars, students, practitioners and experts came together for the 2nd International Conference on Education for Democratic Citizenship in Marrakech, Morocco. Among the sponsors of the conference were TN member University of Ottawa and the Moroccan Center for Civic Education. More than 120 people were in attendance at the gathering, which was held during the first week of February.
In Sudan, the Ahfad University for Women just celebrated the third annual "One Billion Rising" event, in collaboration with the World Health Organization. This yearly event was first held in February of 2013, and is considered the largest action to promote an end to violence against women and girls. One of the participants expressed how meaningful it is for students to participate in such event, considering the local context:
"Our campaign focused on the Arabic word nahda, which recognizes the need to renew our commitment to women all around the world, and to awake and raise our voices to ask for better ways of raising women aspirations and protecting them against any and all types of violence. We recognized how all over and around the world people are making their voices heard."
Elsewhere in Africa, local communities in the Cape Town area will soon begin to benefit from new discoveries from community-oriented research projects. University of Cape Town researchers have created a more effective smoke detector device that measures sudden temperature increases to alert against deadly fires:
While a conventional fire detector is set off by smoke, Lumkani, meaning "be aware" in the Xhosa language, looks for another signal: heat. "Shack environments tend to be fairly smokey because of a lack of electrification," Lumkani's co-designer, University of Cape Town engineering lecturer Samuel Ginsberg, said. "Shack dwellers often use fire inside their shacks for cooking. So a normal smoke detector, which is what you would use in your home, is not effective — it would false trigger far too often." Lumkani's alarm is set off instead by a quick and unusual rise in temperature.
The same article also highlights the inventive work of a group of local high school students who are working, with support from the University of South Africa, to fight another threat from the elements: floods. They have created a platform of recycled crates and plastic bottles that can be placed under shacks to avoid flooding.
In Chile, an early commitment to business incubation is paying off for a member university. According to an article in Chile's independent business newspaper Estrategia, the Universidad Austral de Chile is seeing success among the 14 ventures launched under the Austral Incuba umbrella. As a cohort, the ventures enjoyed more than one million U.S. dollars in earnings in 2014. Austral Incuba manager Macarena Saez stated that more than 400 jobs have been created since 2005 through this initiative:
"These results show us that we have taken the right approach and that we are effectively contributing to our nation from Valdivia, so that we can make the leap from an extractive economy to one based in knowledge and innovation," added Saez.
—
Want to see your university featured in the TN Global News Roundup? Email us and let us know!