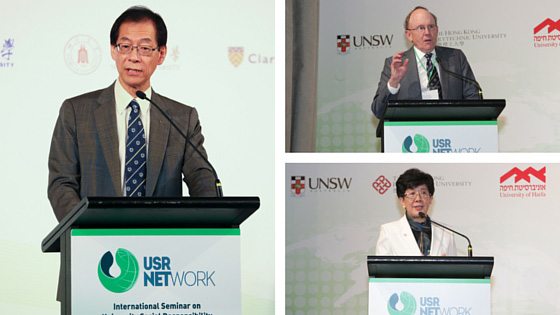 Pictured above: Timothy Tong (Hong Kong PolyU President and TN Steering Committee member), Robert Hollister (TN Executive Director), Angie Yuen (Hong Kong PolyU Vice President and USRN Coordinator)
The Hong Kong Polytechnic University (PolyU) has initiated a new coalition to elevate and promote university social responsibility (USR), together with twelve universities around the globe, including Tufts University and the Talloires Network. The coalition, named the University Social Responsibility Network (USRN), was inaugurated in Hong Kong on October 9. The USRN pledges to be a global platform for exchange of ideas and resources, and fostering collaboration and partnership to contribute to the global development of USR and advance higher education as a catalyst for social betterment.
The USRN has 12 founding members (in alphabetical order of their country):
Australia
University of New South Wales
Hong Kong
The Hong Kong Polytechnic University
Israel
University of Haifa
Japan
Kyoto University
Korea
Yonsei University
China
Peking University
Beijing Normal University
Sichuan University
United Kingdom
Clare Hall, University of Cambridge
The University of Manchester
United States
Tufts University
Washington University in St. Louis
The Secretary for Education of the Hong Kong Special Administrative Region Government Mr Eddie Ng Hak-kim officiated at the inauguration ceremony held in PolyU's teaching hotel, Hotel ICON. PolyU President Professor Timothy Tong, who is also a member of TN's Steering Committee, gave a welcoming speech. The Secretariat of the USRN is hosted in PolyU.
The USRN is guided by its Executive Committee with representation from all founding member institutions. The first Executive Committee meeting was held a day earlier on 8 October where the future path of development of the USRN was crafted with a focus on a few niche areas, including joint publication of a book on USR practices, student exchange, staff exchange and attachment, and promotion of global awareness of university social responsibility.  TN Executive Director Professor Rob Hollister represented Tufts University and TN.
On the day of inauguration, an International Seminar on University Social Responsibility was also held, with USRN founding member institutions sharing their good practices and signature projects in USR. The Seminar focused on three themes – community engagement, nurturing student leadership, and education and research strategies for enhancing social responsibility, and was attended by 150 participants encompassing academics and staff from higher education sector, government officials, consuls general, and business and NGO leaders.