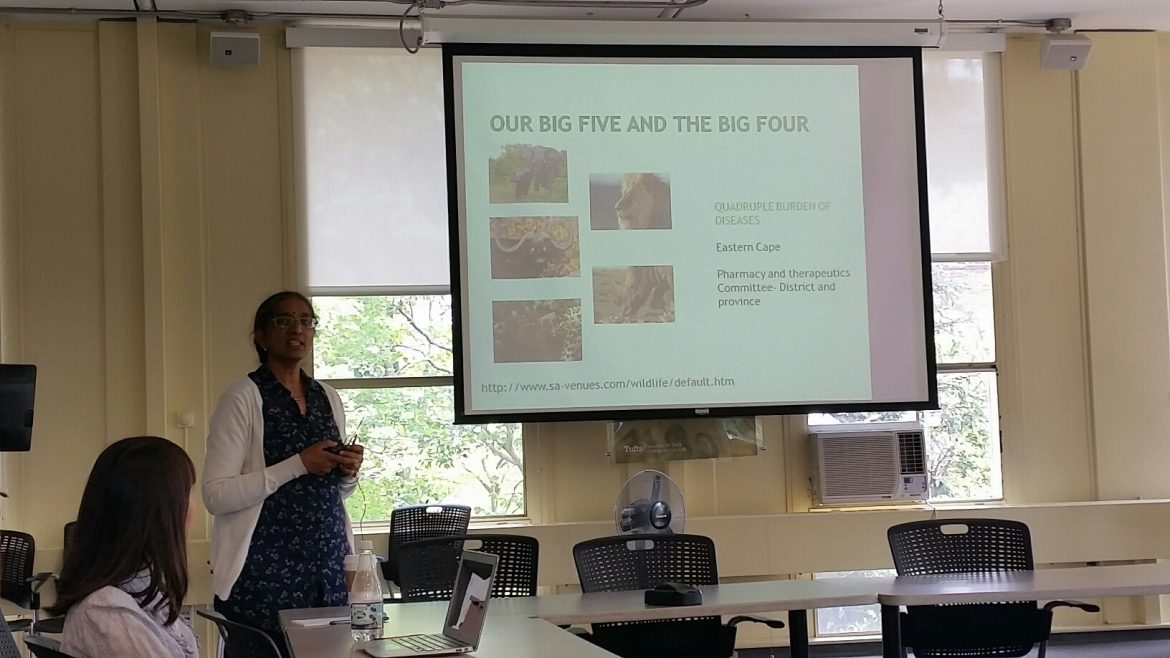 The University Education for Transformative Leadership in Africa (UETLA) program, an ongoing Talloires Network effort to recognize and support engaged faculty, continues to flourish with fruitful exchanges. In addition to quarterly conference calls and monthly online reflections, there have been several in-person meetings to enhance the learning and connection. On May 20th, Associate Professor Sunitha Srinivas of Rhodes University, one of ten UETLA grantees, visited the Talloires Network's office and delivered a presentation on "Health Empowerment: By and With the Community."
Her stories were impressive and inspiring to the audience at Tufts University's Tisch College of Civic Life. We learned about her personal career path from an industry-focused pharmacist to a community-engaged health advocate. As she recalls her lifelong journey of learning, it has been a "humble beginning and progressive realization" throughout 23 years of experiences. To her, challenges such as working without a mentor or working as the only female in the group are valuable. Coming from Bangalore (India) with considerable experiences with the first Medicines Information Centre in the country and then India World Health Organization Essential Medicines Program, she relocated to Grahamstown (South Africa) to work at Rhodes University.
We also learned about Rhodes University, an institution that nurtured Sunitha's passion for serving the majority of population who depends on public sector to access healthcare. Participating in the Community Experiential Program at the Faculty of Pharmacy, she started to question the prevalent model of "Disease-Drug-Dispense" and wanted to concentrate on health, not only disease. Rhodes' three pillars that guide academics helped her to realize the need of integrating three elements in her work: teaching, research, and community engagement.
Through her vivid presentation, Sunitha shared about the community engagement projects and programs she has initiated for her students. A notable example is her students' participation in National Science Festivals six times in ten years. These events included exhibits, board games, and computer quizzes. The initial effort brought Sunitha a Vice Chancellor's Inaugural Distinguished Award in 2008, which strengthened her determination to do community engaged work. Other examples are health promotion for non-communicable diseases in National Science Week 2010, an eight-week workshop with traditional health practitioners, community outreach on World Heart Day and World Diabetes Day 2011, and various research projects by third-year students of Rhodes University Pharmacy Students Association from 2004 to 2014.
In the follow-up session, Sunitha and the audience had a lively discussion on both opportunities and challenges of community engagement. We all are impressed by her wisdom in the field and her devotion to those who need healthcare most.