Dr. Ernest Aryeetey served as Vice Chancellor of the University of Ghana for six years. During his tenure, the University invested in improvements in teaching and learning, new equipment, and research. Dr. Aryeetey is retiring upon reaching the University's mandatory retirement age.
Under Dr. Aryeetey's leadership, the University of Ghana ranked 7th in Africa, according to the Times Higher Education World University Rankings. This makes it the highest-ranked university in the West African sub-region.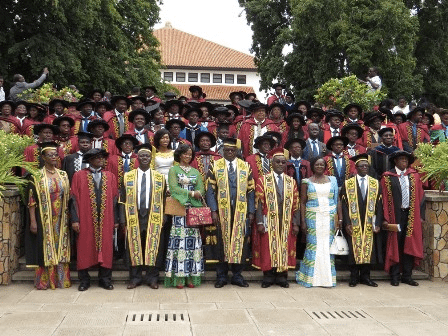 Professor Ernest Aryeetey (middle) in a group photo with other dignitaries at the graduation ceremony
During his graduation ceremony address at the College of Basic and Applied Sciences in Accra, Dr. Aryeetey thanked university administration, staff, and student leaders for their commitment and support, stressing the community that made the University's success possible.
Ms. Angela Kyerematen-Jimoh, the Country General Manager of IBM Africa, was the graduation's guest speaker. She challenged graduates to be relevant, relentlessly reinvent themselves, and build resilience in themselves and their organizations.