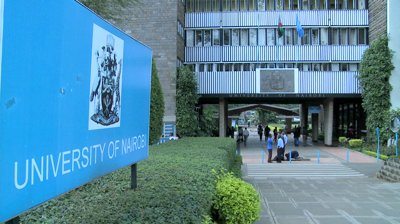 From a humble beginning as a technical college to major growth into a major teaching and research institution, the University of Nairobi has more than 160,000 alumni, some of whom are at the top ranks of Kenyan politics, business, and research. Among its most famous graduates is Nobel Prize winner Wangari Maathai, whose Green Belt Movement contributed to sustainable development, democracy, and peace.
Much of the University of Nairobi's community engagement work comes directly from student-run projects. Campus clubs and societies bring students together to act in unison, with a purpose and a vision. Some community-oriented clubs include the Runway Environmentalists Organization, the CAVS Rover Scouts, the Veterinary Students Association, and the Upperkabet Environmental Forum.
The CAVS Rover Scouts, to cite an example, demonstrate their leadership by bringing food to those in need. Their "hand giving mission" raised 12,500 Kenyan Shillings to buy food for the Nairobi Children's Home in Lower Kabete. In addition to raising funds for food, students also participated in an environmental cleaning drive, cooked meals, played with the children, and performed cleaning duties.
The University of Nairobi hopes to make an impact in dealing with the most troubling public health crisis in the region: malaria. During the World Malaria Day activities, more than 1,000 people were tested for the disease in an event organized by the university in Siaya County. The School of Medicine and the Department of Medical Physiology lead the efforts for the university, collaborating with the Ministry of Public Health and Sanitation, and the Global Fund Malaria.