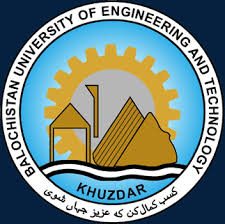 Balochistan University of Engineering and Technology Khuzdar (BUETK) is a well-known public sector university providing a technical base for national development, by producing technically-sound and motivated engineers every year. The engineers who graduate from this institution serve an important role in society. BUETIANs, as students of the institute are popularly known, are contributing to engaging communities from various public and private organizations.
The establishment of Balochistan Engineering College Khuzdar was announced in 1973 and its administrative approval was granted in 1977. After passing through different phases of construction, the college was in a position to start its first-year engineering courses in 1988. After successful performances over the course of just seven years, the institution was raised to the level of University in 1994. BUETK has not only set new norms of excellence in teaching, research and innovation, but also developed a culture which is conducive to creative activities and promotes talent in all forms. Balochistan University of Engineering and Technology Khuzdar has achieved important milestones and gained immense significance as an institution of higher education in Pakistan. Balochistan University of Engineering and Technology Khuzdar has a team of devoted and foreign qualified faculty, state of art laboratories, well- furnished central and departmental libraries, students' hostel and other basic facilities of life.
According to BUETK's mission statement, "The University is committed to impart quality education by promoting a healthy research culture and to equip the students with practical knowledge and innovative ideas. BUET, Khuzdar is the only Engineering University of the province, providing a technical base and research platform to youngsters and contributing its due share in socio-economic uplift of Pakistan in general, and Balochistan particular."
Civic Engagement at BUETK
BUET, Khuzdar has a variety of civic engagement activities to serve the community in Balochistan province. The school designs its programs and courses primarily to focus the national needs and social snags.is a listing of some of these programs:
Make a Difference:
This program traces its roots to October 2008, when three consecutive earthquakes hit the province of Balochistan. "Make a Difference" targets crisis management, poverty alleviation, education and community development.
Financial support to competitive students:
The University and Professional Education Foundation (PEF) supports students who are competitive and highly intelligent individuals These students get admission on open merit, but find it difficult to continue for lack of financial resources. PEF has been established by a group of highly successful executive in their field, to offer opportunities to the academically qualified but under privileged students.
Emergency Relief and Healthcare Support to the Victims of  Earthquakes in Balochistan.
The University and the Hands non-government organization cover population of 10,000 households during earth quake affected districts of Balochistan. Project will cover communities of 8 affected union councils including Awaran, Gajar, Nokjo, Teertaje, Parwar, Gishkore, Chitkan (Panjgore), Dandar (Ketch) and 3 districts of Balochistan. The emergency relief package was comprised of Emergency shelter kit with non-food Item(blankets, mats, buckets, solar light, andceramic filters). Emergency health care was provided through mobile medical camps. Medical services included the antenatal and postnatal care, care for childhood illnesses, and other communicable diseases care to all adults. Additionally, physiotherapy of injured patients and rehabilitation for disabled persons were also planned. The child friendly spaces were established & cash for work activities were conducted.
National Outreach Consortium
The BUET, Khuzdar and the Lahore University of Management Sciences (LUMS) provide quality education and address the issue that, despite the ongoing efforts by relevant academic institutions, many intelligent students from lower income class and underprivileged areas are unable to get themselves registered in college.
Both institutions enter into this Memorandum of Understanding (MOU) to constitute a "National Outreach Consortium" with 13 other leading Pakistani universities located in the far flung areas of the country. The objectives include providing support in knowledge sharing, helping secure funding jointly, developing a website to create awareness, conducting workshops and training sessions for students to prepare them for entrance tests, host training programs for teachers, and collaborating on outreach.
Capacity Building Education among Teachers and Students:
Balochistan University of Engineering and Technology Khuzdar (BUETK) entered into the Memorandum of Understanding and Cooperation with Association for Academic Quality (AFAQ) on June 16, 2014 and agreed that a long–term relationship has the potential to offer considerable cost-savings and operational efficiencies to both parties in character education.
BUETK will provide a technical base and research platform to youngsters and contribute its due share in socio-economic uplift of Pakistan in general, and Balochistan in particular.
AFAQ is acompany established in 1999 to promote character education and assist educational institutions through its multi–facet school support programs. It will facilitate and provide the technical expertise for capacity building, encourage research in improving upon the quality of the publications, and highlight the hidden potential of teachers, students and children to align them in accordance with ideology of Islam and Pakistan.
BUETK and AFAQ will jointly start collaborative activities by organizing public awareness campaigns through conferences, seminars, walks, prim / electronic media, publications or as necessary for achieving common objectives. They will conduct various competitions for universities students such as debates, quiz , calligraphy, science exhibition, book fair, writing competitions, leadership camps, skill development, and exposure visits. They will work together to arrange exchange of visits between students of BUET, Khuzdar, and other universities.