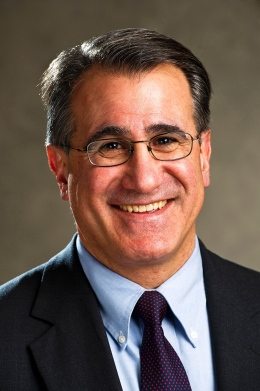 Greetings,
These are busy times for universities around the world, as most of the Global North celebrates their campuses' homecoming, and the Global South prepares to close out the school year. We hope this season brings you optimism and renewed energy as you continue to build engaged campuses in your local communities.
I would like to thank all those who joined us at our 10th anniversary luncheon in New York City last month. It was a delightful time to celebrate the partnerships that have made our work possible over the last decade.
In this edition of the newsletter, you'll learn about the creation of a new civic engagement network, the University Social Responsibility Network (USRN). Led by Hong Kong Polytechnic University (PolyU), the twelve co-founding members of USRN are from China, Japan, Korea, Australia, Israel, the UK and US. Our executive director Robert Hollister participated in the founding meeting, which took place earlier this month in Hong Kong.
We are proud that so many universities have shown interest in participating in the network's programs and initiatives. The Steering Committee thanks all the cities and universities that submitted expressions of interest in hosting the 2017 TN Leaders Conference. The selected city will be announced in February of next year. Lastly, we'd like to thank all those African engaged scholars who applied to receive the University Education for Transformative Leadership Mini Grants. Awardees will be announced in next month's newsletter.
All the best,
Anthony P. Monaco
President, Tufts University
Chair, Talloires Network Steering Committee
Talloires Network Celebrates Ten Years of Partnerships and Growth

With the occasion of the Network's tenth anniversary, the Steering Committee gathered in New York City to carry out its biannual meeting and host a special luncheon with supporters, staff, student leaders, and friends. Eduardo Garrido of Santander Universities spoke at the luncheon, and wrote a reflection for the Talloires Network blog. Read More>>>
Partner Network News

The Hong Kong Polytechnic University (PolyU) has initiated a new coalition to elevate and promote university social responsibility (USR), together with twelve universities around the globe, including Tufts University and the Talloires Network.  The coalition, named the University Social Responsibility Network (USRN), was inaugurated in Hong Kong on October 9.

The USRN is guided by its Executive Committee with representation from all founding member institutions. The first Executive Committee meeting was held a day earlier on 8 October where the future path of development of the USRN was crafted with a focus on a few niche areas, including joint publication of a book on USR practices, student exchange, staff exchange and attachment, and promotion of global awareness of university social responsibility.  TN Executive Director Professor Rob Hollister represented Tufts University and TN. Read More>>>

The Pakistan Chapter of the Talloires Network continues to grow, with an impressive array of activities taking place in all member universities. This edition highlights the MacJannet Prize winning program, the National University for Sciences and Technology's Community Service Club. It also features the work of dental students from Bahria University, a blood donation camp at Riphah International University, and  the adoption of a school in Mauritius by Greenwich University. Read More>>>
Talloires Network Connects Looks at the World of Civic Engagement

Now's the time to check out and register for our online community of practice platform, TN Connects. This month, we feature an interview with David Langley of the Center for Educational Innovation at the University of Minnesota and a PBS report on a new generation of Rwandan entrepreneurs bringing tech solutions to the farming sector.

Deepen your relationship with us by joining TN Connects today. Learn More>>>
Opportunities and Announcements

Thank you to all of you who submitted applications for our University Education for Transformative Leadership Mini-Grants. These grants will award ten engaged faculty in Africa. We received 28 nominations from seven countries. An international selection committee is reviewing applications, and will announce winners in November 2015.

The Big Tent group, comprised of important civic engagement institutions, research centers, and global, regional, and national networks, has recently published its 6th communiqué. Released on October 9th and titled "Local Identities and Global Citizenship: A Message from Catania and Challenges for Universities," the statement is posted on the website for the UNESCO Chair in Community Based Research and Social Responsibility in Higher Education Read More>>>
Papers and Publications

You can now access the new issue of Peer Review, a journal of the Association of American Colleges & Universities (AA&CU), based on a series of Kettering Foundation exchanges led by Caryn McTighe Musil and Elizabeth Minnich Read More>>>

Engagement Australia has published a new edition of the Australasian Journal of University-Community Engagement, which provides an important avenue for scholarly comment and review on engagement within the Australian Higher Education sector. Read More>>>

University World News includes an important opinion piece, recommended for all university civic engagement advocates. Professor Rajani Naidoo of the University of Bath (UK) provides insightful commentary in his piece, "Competition is Hindering Compassion and Conscience." Read More>>>
Upcoming Events

4th Annual Lynton Colloquium on the Scholarship of Engagement. University of Massachusetts Boston. Boston, MA, USA. 14 November, 2015. This colloquium is inspired by Ernest Lynton's framing of faculty scholarly activity as inclusive and collaborative work in which academics and community partners share knowledge and expertise in the process of public problem solving. Learn More>>>

Universidad 2016: 10th International Higher Education Congress. Havana, Cuba. February 15-19, 2016. The Cuban Ministry of Higher Education and the universities of the Republic of Cuba invite colleagues from around the world to participate in the 10th edition of the "Universidad" congress. This year's congress, under the theme "Innovative University for Sustainable Human Development", will follow contemporary debates regarding higher education. Simultaneous interpretation will be available. Learn More>>>

Campus Compact invites all Talloires Network members to attend its 30th Anniversary conference, "Accelerating Change: Engagement for Impact." The event will be held in Boston in March 2016. All TN members are eligible for the Campus Compact member rate. Please fill out the online form to obtain the member discount code. Learn More>>>

We are always updating the conferences calendar on our website. Read More>>>