University rankings are a regular annual feature for every student, grant provider and school administrator.  While they are an easy go-to option while selecting universities for admission or investment, they leave many questions unanswered. Do these rankings correlate? Are they comprehensive? What makes one university better than another?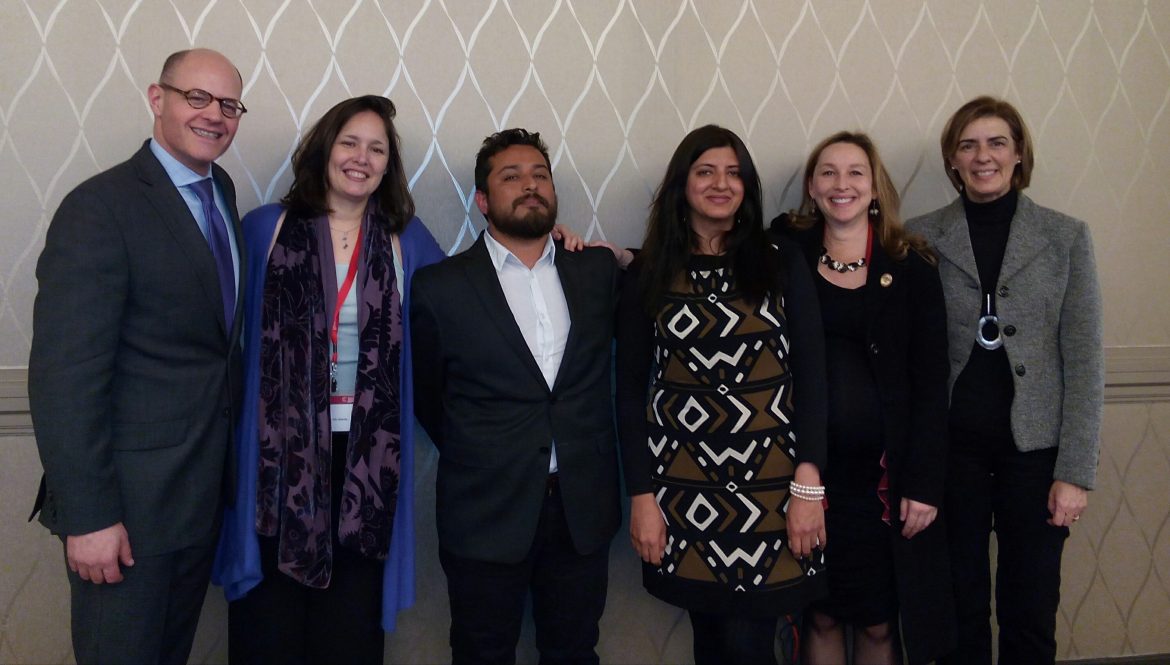 From left to right: Andrew Seligsohn, President of Campus Compact; Lorlene Hoyt, Director of Research Talloires Network; Hector Opazo, Chile Service Learning Network; Gul Zehra, Pakistan Chapter of Talloires Network; Amy Newcomb Rowe, Talloires Network; and Pilar Aramburuzabala, Spanish Service Learning Network
The question of university rankings was the theme for the Talloires Network Panel at the Campus Compact 30th Anniversary Conference at the Sheraton Hotel, Boston on March 23, 2016. In front of an audience of fifty participants, Dr. Pilar Aramburuzabala from the Spanish Service Learning Network, Gul-e-Zehra Shah of the Pakistan Chapter of Talloires Network, Hector Opazo from the Chilean Service-Learning Network (Red Nacional de Aprendizaje Servicio – REASE) and Tufts Professor and Talloires Network Director Lorlene Hoyt questioned the indicators used by ranking agencies. They pointed to the fact that rankings prioritize certain goals, such as research and high academic performance, over more holistic and career-focused aspirations. The panel suggested that this situation could be remedied by adding community service and civic engagement as a ranking indicator.
Dr. Aramburuzabala pointed out that competition between universities cannot be avoided in the 21st Century. When well done, rankings can be very valuable resources.  Governments and private donors would like to grant funds and invest in the best universities, and students would like admission to the best programs. Though heavily criticized, university rankings are widely used. Unfortunately, while many universities do conduct civic engagement, no ranking system has civic engagement as a criterion. This is due to the fact that many civic engagement activities are considered difficult to measure and assess.
Gul-e-Zehra Shah pointed out that the criteria that rankings depend on are not necessarily criteria that employers look for when hiring graduates. A high GPA or good research skills weigh poorly in a job interview, compared to volunteering experience and internships – skills which can be found through community engagement. Academia can, and should, inform ranking agencies about new ranking needs, and participate in having civic engagement incorporated into ranking systems.
The National University of Sciences and Technology has been a pioneer in Pakistan in terms of informing ranking agencies of this need, as has the Steering Committee of Talloires Network. Professor Lorlene Hoyt spoke of the network's conversation with Times Higher Education about developing an international civic engagement classification on the lines of the Carnegie Community Engagement Classification. That initial conversation resulted in this article by Anthony Monaco, President of Tufts University and Cheryl de la Rey, Principal of the University of Pretoria. Monaco and de la Rey serve as chair and vice-chair of our network's Steering Committee, respectively. Professor Hoyt also emphasized that assessment of a university's performance requires systematic attention to civic and social engagement.
Hector Opazo warned against blindly following rankings which create hierarchical differentiations between universities. He said national media should share with countries and students all aspects of the rankings, including their motivations. He also advocated following an international index for international rankings, which would consider not only civic engagement, but also quality of student experience. He proposed that a civic engagement indicator must be politically relevant but not politically driven, connected with priorities and significant issues, and accessible to a large audience.
The presentation was well received. The audience raised several pertinent questions in the follow-up discussion. It was suggested that civic engagement indicators should include a university's knowledge of local history and aging populations. It was also brought up that research-based universities are ranked higher than metropolitan universities because rankings privilege research, rather than looking at other valuable contributions such as citizenship and engagement studies. Many participants spoke of the necessity of looking at a non-US perspective of rankings which incorporate localized standards. A professor from a community college pointed out that community colleges are not included in many conferences or rankings, but they conduct many civic engagement programs which have huge impact.
The takeaway from the panel discussion was that rankings create an inherent bias that privileges research intensive universities, while universities that actually serve social needs are disadvantaged due to the void within the ranking system.
Learn more about the Talloires Network Regional Networks.
Written by: Protiti Roy