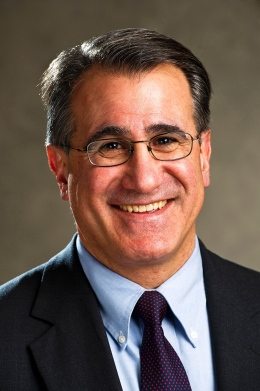 Dear colleagues,
The Talloires Network's programs and initiatives are springing forward in the United States and around the world.
When we launched the Youth Economic Participation Initiative three years ago, we envisioned a global program that would create new connections across borders while giving opportunities for students and graduates to sharpen their entrepreneurship skills and bring positive change to their communities. Last month, the Social Innovation Mela at the Lahore University of Management and Sciences provided us with an opportunity to continue achieving that goal. Community engagement leaders from Tufts University, Universidad Veracruzana, Universidad Austral de Chile and the University of Cape Town participated in this event. They shared strategies and challenges, reflected on commonalities and mutual values, and explored the differences between their contexts and approaches
Our membership at large will have an opportunity to engage in this manner at our 2017 Talloires Network Leaders Conference in Veracruz, Mexico. Please save the week of June 19, 2017 on your calendars as we prepare to convene  leaders in the global civic engagement movement once again.
This month's newsletter includes a wide array of opportunities of which you can take advantage: a service-learning seminar in Argentina, a call for submissions to a community engagement journal, and an award for a faculty member demonstrating exemplary engaged scholarship – among others. It also highlights recent civic engagement developments in member universities in Zimbabwe, Pakistan, and India – and promotes conferences in Australia, Italy, and the United States. We also share news of our conference presentation in Brazil this month.
Best regards,
Anthony P. Monaco
President, Tufts University
Chair, Talloires Network Steering Committee
| | |
| --- | --- |
| | In March 2016 several members of the Talloires Network's Youth Economic Participation Initiative (YEPI) visited the Social Innovation Lab at the Lahore University of Management Sciences (LUMS). The visit coincided with the university's second annual Social Innovation Mela. This three-day event highlighted the wisdom, culture, history, and art of the city of Lahore, with the theme of reclaiming "Lost Lahore." Read More>>> |
Talloires Network News

Talloires Network Presents at the Brazilian Association of International Education
FAUBAI, the first and only organization of its kind in Brazil, is an association of higher education institutions with a mission to promote internationalization and collaboration with institutions abroad. Our presentation focused on examples of "global citizenship" demonstrated by winners of the MacJannet Prize and participants in our University Volunteers Program. Learn More>>>

MacJannet Prize Winner Establishes National Civic Engagement Coalition 'ILAAN'
In the true spirit of engagement, the Legal Services Clinic of the National Law School of India University, Bangalore, winners of the MacJannet Prize in 2014, have formed a coalition with other law schools across India to form the Indian Legal Aid and Awareness Network. ILAAN aims to collaborate on providing pro-bono legal services across India. Learn More>>>

Civic Engagement Movement Leaders to Convene in Mexico in 2017
The Talloires Network Leaders Conference is scheduled for the week of June 19, 2017 at the University of Veracruzana in Mexico. Registration for TNLC2017 will begin in October. More details about the program, travel grants, and keynote speakers will be out soon. Learn More>>>

The Talloires Family Expands!
The Talloires Network is proud and happy to welcome aboard two new members – the Shaheed Zulfikar Ali Bhutto Institute of Science and Technology (SZABIST) in Pakistan and Southwestern University from Georgetown, Texas. Both universities are forerunners in civic engagement. We encourage you to visit their profiles and learn more about their work.
Partner News

YEPI grantee paNhari group conducts leadership training and imparts entrepreneurial skills to assist young graduates in starting their own businesses in Zimbabwe. These young social entrepreneurs then go on to employ other youth, thus fighting back against high levels of unemployment in the country. Watch their video>>>

The Community Service Club of the National University of Science and Technology, in Lahore, Pakistan, have started a monthly newsletter. The very first issue came out on 4th April 2016. The launch was accompanied by community engagement themed activities. Learn More>>>
Opportunities and Announcements

Call for presentations: CLAYSS 19th International Service-Learning conference
The Latin American Center for Service-Learning (CLAYSS, in Spanish) is hosting the19th International Service-Learning conference on August 25-26, 2016. The conference, held at the Pontificia Universidad Católica Argentina in Buenos Aires, will discuss pedagogical approaches towards service-learning. Learn More>>>

Call for submissions: International Journal of Research on Service-Learning and Community Engagement
IJRSLCE invites submissions for its 2016 volume on the broad theme of service-learning and community engagement. The deadline for submissions is May 27, 2016. Learn More>>>

IARSCLE: Call for Award Nominations
The International Association for Research on Service-learning and Community Engagement (IARSLCE) is now accepting nominations and applications for their 2016 recognitions and graduate student scholarships. The deadline for submissions is May 24, 2016. Learn More>>>

Call for proposals: Coalition of Urban and Metropolitan Universities
The Coalition of Urban and Metropolitan Universities (CUMU) is inviting proposals for presentations on the theme "Charting the Future of Metropolitan Universities" for the CUMU Annual Conference to be held on October 23, 2016 in Washington DC. The deadline is May 3, 2016. Learn More>>>

Call for Nomination:  Thomas Ehrlich Civically Engaged Faculty Award
Campus Compact invites nominations for the Thomas Ehrlich Civically Engaged Faculty Award, named in honour of their former Chair of Board of Directors. The award recognizes one senior faculty member for exemplary engaged scholarship. Learn More>>>
Papers and Publications

NERCHE Publication on New Generation of Faculty and Public Engagement
"Publicly Engaged Scholars: Next Generation Engagement and the Future of Higher Education" is the latest publication from New England Resource Center for Higher Education (NERCHE). This publication presents the voices of a new generation of scholars, educators, and practitioners who question existing policies, structures, and practices, and put forward new forms of engagement that can help transform higher education to align it with societal needs. Read more>>>

University World News: Transformative Leadership Series
University World News is partnering with the Master Card Foundation for a 6-month series on "Transformative Leadership." Some of the articles include:
— "What is Transformative Leadership?" by Chris Roche, April 15, 2016 issue.
— "An education change maker from the age of 14" by Brendan O'Malley, April 24, 2016 issue.
Upcoming Events

IARSLCE European Conference
The Foundation for Intercultural Exchange and Europe Engage are convening the IARSLCE European Regional Research Conference on June 10, 2016 in Bologna, Italy. The deadline to register for participation is June 1, 2016. Conference website.

Engagement Australia: 13th International Conference of Engaged Scholars and Practitioners
Engagement Australia is hosting Engage to Transform, their 13th International Conference of Engaged Scholars and Practitioners, on July 18-19, 2016 in Melbourne, Australia. Early bird registration closes on May 27, 2016. Conference website.

Campus Engagement Directors Retreat
Campus Compact and New England Resource Center for Higher Education (NERCHE) are co-hosting the Campus Engagement Directors Retreat on July 7 and 8, 2016 at Saint Mary's College, California. Learn More>>>

We are always updating the conferences calendar on our website. Read More>>>