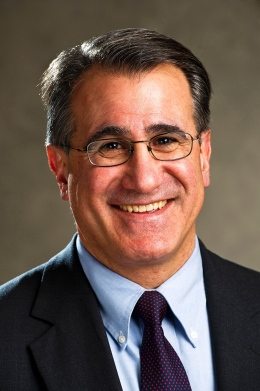 Dear colleagues,
Summer at Tufts University is a time to renew and recharge for the academic year ahead. This season in particular brings important changes to the Talloires Network.
After ten years as Executive Director, Professor Robert Hollister is retiring from his post. At this year's commencement, Rob was named emeritus professor for Tufts' Urban and Environmental Policy and Planning department. Rob's leadership has been essential to the creation and growth of this network and to civic engagement initiatives within Tufts University and around the world. We thank him profusely for his efforts.
Looking ahead, our coalition is moving forward with planning for our 2017 Talloires Network Leaders Conference to be hosted at the Universidad Veracruzana in Veracruz, Mexico. The port city in the Gulf of Mexico will host leaders from around the world as we share perspectives and debate ideas for the progress of university-community collaborations and engagement. The themes of the conference are organized in a framework of rights and responsibilities:
• The right to education and the responsibility to be socially inclusive and to promote quality education to all, including people from disenfranchised and indigenous communities,
• The right to leadership opportunities and economic mobility and the responsibility to create prosperous communities and societies,
• The right to a livelihood and the responsibility to prepare people for employment and entrepreneurship, and to contribute to local development.
Lastly, a new publication highlights a success story at a member university. Associate Professor Lorlene Hoyt, new interim executive director of the network, led a collaborative research project on the work of Chile's Centro de Emprendizaje (CEM). The study observes CEM's approach to integrating higher education with entrepreneurship and collaborative learning at Valdivia's Universidad Austral de Chile.
Best regards,
Sincerely,
Anthony P. Monaco
President, Tufts University
Chair, Talloires Network Steering Committee
Rob Hollister Retires as Founding Executive Director of Talloires Network
Rob Hollister retired as Founding Executive Director of the Talloires Network on July 1, passing the baton to Lorlene Hoyt who is now Interim Executive Director.
Professor Hollister co-organized the convening of university heads at the Tufts European Center in September 2005 that launched TN. He then oversaw the coalition's secretariat and since 2011 has served as Executive Director. Hollister played a lead role in designing core programs of the Network and raising funds to expand its operation.
Rob commented, "It has been a great privilege to support the dynamic leadership of colleagues around the world who are moving their universities beyond the ivory tower."
Continue reading for reflections from Steering Committee leaders on Rob's influential leadership.
Read more>>>
Talloires Network News
A newly published case study by the Talloires Network, the MIT Community Innovators Lab, and the Centro de Emprendizaje (CEM) explores the CEM's approach to integrating higher education with entrepreneurship and collaborative learning at Valdivia's Universidad Austral de Chile. The Report explores the applications of Emprendizaje—a concept combining the Spanish words for entrepreneurship and learning—that CEM faculty and staff try to live out daily. Learn more>>>
The Talloires Network's Interim Executive Director Lorlene Hoyt collaborated with Kettering Foundation to hold a workshop at this year's Deliberative Civic Engagement convening, which began on July 12 in Dayton, Ohio. The workshop involved 13 participants from universities around the globe. The workshop's leaders aim to learn about innovative, university-led approaches to public deliberation from its diverse group of participants. Learn More>>>
The annual "Frontiers of Democracy Conference" took place on June 23rd-25th at Tufts University's downtown Boston campus. Participants explored a broadly defined conception of democracy, looking at a breadth of civic practices that included deliberative democracy, civic and human rights, social justice, community organizing and development, common resource management, civic education, and citizen media production. Learn More>>>
On July 7th, the Talloires Network hosted a webinar presentation by scholars from South Africa's Rhodes University, titled "Gender and Leadership in Health Promotion." Presenter Sunitha is an awardee of the Talloires Network's University Education for Transformative Leadership in Africa (UETLA) Faculty Support Grant. Theodore is her graduate student at the Faculty of Pharmacy. They discussed how the role of gender and leadership can be enhanced to initiate health promotion activities in the workplace to combat the epidemic increase in non-communicable diseases in South Africa. Watch the webinar>>>
Partner Network News
The Pakistan Chapter of the Talloires Network continues to shape the future of higher education in Pakistan, following a coalition-wide meeting in March 2016. The national network focuses on bridging and enhancing college-based civic engagement initiatives throughout Pakistan. The 5th edition of its newsletter, CommPact, focuses on the civic engagement initiatives of its 65 member universities in advocacy, health, disaster relief and education. Learn More>>>
The COMMIT Project published an outline of outcomes and tools for university engagement in its final newsletter. This initiative developed and supported strategies to strengthen the "social dimension" of universities from 2013 through 2016. This last newsletter explores project outcomes and achievements, and shares how to access the tools developed by COMMIT partners to assist university civic engagement. Learn More>>>
Opportunities and Announcements
Talloires Network member Ahfad University for Women (Sudan) is accepting nominations for the Yousif Badri Civic Engagement International Prize (YbCEIP). YbCEIP celebrates extraordinary civic engagement programs committed to ongoing community engagement and service. All universities with civic engagement programs are welcome to apply. Learn More>>>
The Call for Papers for the AsiaEngage Conference is now open. The Third AsiaEngage Regional Conference will take place November 21-23, 2016 in Manila, Philippines. The conference will focus on university engagement with government, communities, industries, and civil society, and will brings together diverse practitioners from academia, NGOs, government, and foundations who are passionate about university-community engagement for regional development.
Deadline for paper submission is July 30, 2016. Learn More>>>
Papers and Publications
Gender and Transformative Leadership (University World News): Women's collective action is key to achieving gender equality; an achievement that has enormous socio-economic ramifications. Read More>>>
When Service Learning Doesn't Serve (Inside Higher Ed): Too often, service learning prioritizes students over the people with whom they work, Randy Stoecker argues in a new book. Read More>>>
Bringing the World Home (The Finger Lakes Times): Two Peace Corps volunteers return to their New York hometown with a global perspective and professional skills, writes Mark Gearan, President of Hobart and William Smith Colleges and member of the Talloires Network Steering Committee. Read More>>>
Upcoming Events
22nd Annual Conference of the Coalition of Urban and Metropolitan Universities. Washington, DC, USA. October 23-25, 2016
This year's CUMU conference is the first one to be held in the nation's capital. CUMU is a community of college presidents and chancellors, senior academic and business leaders, faculty, center directors, community partners, K-12 leaders, economic and workforce development professionals, and policy makers. This year's theme, "Charting the Future of Metropolitan Universities," is designed to generate dialogue that examines the biggest challenges and opportunities facing our institutions and cities. Learn More>>>
2nd Annual International Universities Networking Conference. Dubai, United Arab Emirates. October 25-26, 2016
The IUNC Middle east and Africa conference is devoted to the Internationalization of Higher Education and aims to broaden relations between institutions from different countries and create a worldwide peer-level interaction network. The special focus of the event is collaboration with universities and education agencies from Africa. Learn More>>>
International Association of Universities 15th General Conference. Bangkok, Thailand. 13-16 November, 2016.
This year's conference theme is "Higher Education: A Catalyst for Innovative and Sustainable Societies." The event will focus on sharing strategies and practices that demonstrate how higher education institutions contribute to innovation and sustainability. Learn More>>>
We are always updating the conferences calendar on our website. Read More>>>