Registration is now open for the 2017 Talloires Network Leaders Conference, which will be held in Xalapa, Veracruz, Mexico on June 21-23, 2017. The host for this global gathering is the Universidad Veracruzana (UV), a long-time member university of the Talloires Network recognized internationally for its robust community engagement programs. The rolling hills and narrow streets of Xalapa, the Veracruz state capital and site of the main UV campus, will welcome around 250 participants from universities around the world.

What should participants expect?
This event is like few others. Aside from hearing outstanding featured speakers from Mexico, Australia, Canada, Argentina and elsewhere, each participant will be given a chance to talk about their work in "Dialogue Sessions" designed to maximize opportunities for exchange. Network program participants from the Youth Economic Participation Initiative (YEPI) and previous winners of the MacJannet Prize for Global Citizenship will share the progress of their work since our last gathering three years ago. Lastly, UV will proudly show its groundbreaking work, leading service-learning trips to different regions where the university community is making a positive impact in Mexican society.
How can I sign up? 
Early registration ends on February 28th. Registration prices go up on March 1st, and registration closes on May 31st. The local airport is serviced by daily flights to Mexico City, Guadalajara, Cancun, Merida, and Houston and we have arranged for discounted prices at five local hotels. The cost to participate has been designed to encourage participation from different areas of the world by providing a sliding scale price structure based on countries' Human Development Index rating. This system increases opportunities for participants from less resourced regions. All countries with TN member institutions are shown in the chart below: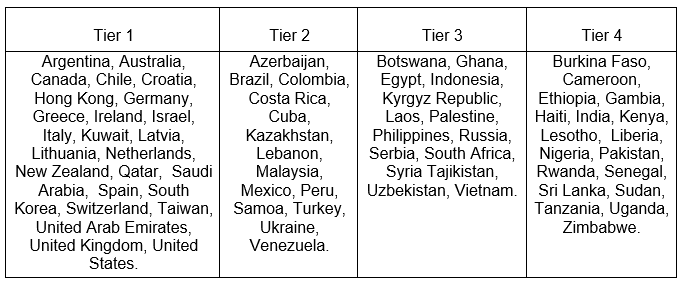 The prices per region are as follows, in US dollars:
Tier 1: $425 early registration / $500 regular price – Register here!
Tier 2: $300 early registration / $375 regular price – Register here!
Tier 3: $225 early registration / $300 regular price – Register here!
Tier 4: $100 early registration / $175 regular price – Register here!
Interested? Click here to view all registration options on our online portal and contact us at talloiresnetwork@tufts.edu with any further questions.