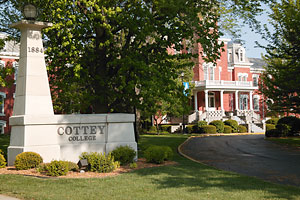 Cottey College is an independent liberal arts and sciences college for women located in Nevada, Missouri. Founded in 1884 by Virginia Alice Cottey Stockard, it is owned and supported by the P.E.O. Sisterhood, a philanthropic women's organization. Cottey offers baccalaureate degrees in the following programs: Business, English, Environmental Studies, Health Sciences, International Business, International Relations, Liberal Arts and Psychology as well as associate degrees in Arts and Science. Cottey College's home page>>
The Helen and George Washburn Center for Women's Leadership
LEO (Leadership, Experiences, Opportunity)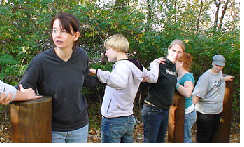 LEO is a four-level leadership certification program for Cottey students.  Approximately 60 students participate in the LEO program annually, which enables them to discover their own leadership style and connect with women leaders both on campus and in the community. Among the requirements of the program is the planning and completion of a community service project.
Cottey-Nevada Presidential Leadership Program
This after-school program is offered to Nevada High School junior and senior girls. Twelve students are selected based on application and teacher recommendation. The College president and other staff teach sessions on team-building, communication skills, ethical decision making, networking with business cards, social protocol, and selecting a college.
Learn more about the Center for Women's Leadership>>
Change in Action
Change In Action is a student-led group, formed in September 2007, which focuses primarily on the education of girls, social justice, and women's issues in Guatemala.  The initiative developed with the goal of impacting the lives of indigenous Guatemalan girls. The students decided that an effective way to do this was through the support of already established educational programs for school-age children in Mayan communities. The programs are the San Lucas Scholars and the Guatemala Friendship School. Change in Action raises funds to provide supplies to these schools and also to cover the tuition costs for several sponsored students.