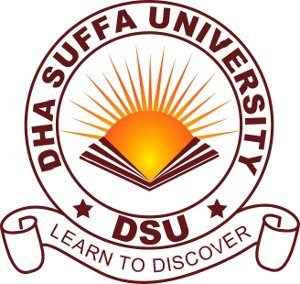 DHA Suffa University (DSU) is a private research university located in the DHA neighborhood of Karachi, Pakistan. It was established in 2002, construction began in 2004, and operations began in 2012. In a short span of time, the university has come to be recognized as a top institution of higher learning in Pakistan. An ongoing Master Plan development process will see the university grow to a full-fletched campus hosting 11,000 students.
At DSU, students are provided with multiple opportunities to participate in activities of their choice. The student societies, each having a faculty in-charge, help students pursue their passions, interact with prospective employers, and foster professional relationships. The student societies relate to topics such as debate, math, arts and drama, robotics, entertainment, sports, and others.
DSU lists Faith, Character, Learning, Discovery, and Diversity as its core values. Its values statement declares that "all faiths promote peace and love" and that "learning and acquiring knowledge are the core business" of the university.
One of DSU's most prominent celebrations of diversity is its Women's Day event. Aimed at applauding and appreciating the contributions of women to society, the event brings several renowned Pakistani women to campus. Bushra Ansari, Nadia Hussain and Shahina Ali Raza were among the speakers of "Women 2014" at DSU. They brightened up the event and injected enthusiasm into the audience with their eloquent speeches about the role women play in society. They also shared their personal struggles and stories of success in our male dominated society. All of DSU's students attended the event and actively participated during the question and answer session.
The university also participates in several extra-curricular competitions meant to foster civic responsibilities among its students. In December of 2013, DSU students participated in LUMUN 2013, a Model United Nations competition at the Lahore University of Management Sciences. They portrayed the delegates from Japan, China, Greece, and Ireland. Similarly, six DSU students participated in GIMUN 2013, another mock competition where students played the roles of ambassadors or delegates in diplomatic debates related to global politics, international relations, governance, territorial disputes, and human rights. DHA Suffa University held its 1st All Karachi Bilingual Declamation Contest on November 20th, 2013, where students from renowned educational institutions of Karachi participated in a bilingual (English and Urdu) speech competition.
The university does not shy away from taking principled stances related to civic responsibilities. Students and faculty members of DHA Suffa University participated in a "Walk against Corruption" organized by the National Accountability Bureau (NAB) on December, 2013. Various other Karachi-based universities participated in the walk to show their concern and seriousness towards the cause. The walk ended with a ceremony where shields were distributed among the representatives of the different universities.
Further details about all of DSU's programs are available at their website, www.dsu.edu.pk.