Dow University of Health Sciences is a public sector university first established as the Dow Medical College in 1945 by Sir Hugh Dow, the governor of Sindh. In December of 2003, several medical colleges and institutes combined to form Dow University of Health Sciences at the initiative of Dr. Ishrat-ul-Ebad Khan, a graduate of the institution and the current governor of Sindh. Operating under the motto "Prevention is Better than Cure," DUHS focuses on three pillars: Academic Excellence; Human Resources Development; and Community Health Care. DUHS' website>>
Expanding Access to Health Care
In order to improve the health of disadvantaged communities, Dow University of Health Sciences provides free or low-cost medical services to those in need. DUHS has established an Artificial Limb Centre to provide artificial limbs almost free of cost to needy patients. DUHS is also establishing a Department of Emergency Obstetric Care to reduce maternal and child mortality rates in the local community.
Community Medical Education Programs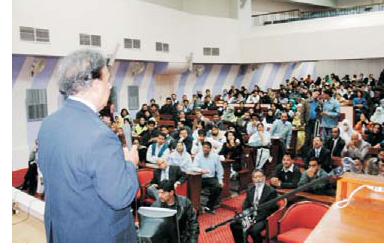 DUHS has undertaken Public Awareness Programs to better educate the local community about common health issues such as obesity, diabetes, hepatitis, and HIV/AIDS, as well as about specific epidemics such as SARS and Bird Flu. Many of these programs have been delivered on TV and radio as a public service. Other health education programs have focused specifically on children. Learn more>>
Community Based Rehabilitation
The program mission is to make students able to serve persons with physical and/or mental disabilities. This program prepares students to advocate effectively for improved services and community acceptance of individuals with physical and/or mental disability. The students are trained to take up leadership role, either clinically or in management and supervisory capacities. Another aim of rehabilitation is to promote recovery, improve quality of life and community integration. This service responds to a wide range of need and ensures the best possible outcome of people with disability. It makes service available in rural areas with limited infrastructure as program leadership is not restricted to professionals in health care, education, vocational and social services. Rather it involves persons with disabilities themselves, their families and community. It focuses on preventing further deterioration and minimizing consequences of disability. It also coordinates with non specialist services that are needed to meet clients' needs.