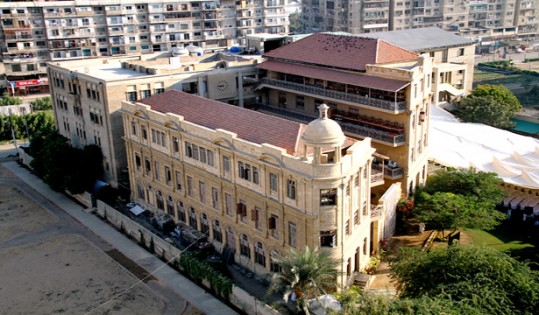 The Indus Valley School of Art and Architecture (IVS) is a private, non-profit higher education institution in Karachi, Pakistan. IVS was founded in 1989 by a group of professional architects, designers and artists who believed that Karachi was in critical need of a school of excellence encompassing the disciplines of Fine Arts, Design and Architecture. It received an independent charter in 1994. IVS works to go beyond technical instruction by placing emphasis on creative thought and action. Learn more>>
Nusseranjee Park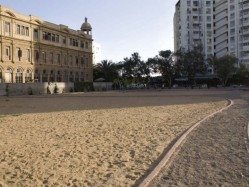 IVS has a community service philosophy as part of its mission statement and as a component of its core academic program. Karachi's City Government offered IVS a plot adjacent to its famous Nusserwanjee Building for developing into a community park. The park is named as the "Nusserwanjee Park". The School has adopted the Park and developed it as one of its community service initiatives with help from several responsible citizens of Karachi and with support from companies with strong CSR. The School already maintains a Sculpture Park which is located exactly in front of the IVS Campus. The park has several indigenous plants specially planted within the park area. It has a walkway and is shared with the community living in the surrounding areas. Learn more>>
Textile Design Department: Faculty and Students collaborate with different NGOs
Craft documentation and design intervention are a major component of the curriculum in the textile department. The objective is to teach students to meet challenges involving the marketing of a craft. The students carry out field research in the rural sector and then document the origin system and status of the craft through written and visual mediums i.e. notes, drawings, photographs and film. This material adds to the departments? resource and can be disseminated to collectors, institutions, students and NGOs in a book form or as crafts maps.
For example, AHAN (Aik Hunar Aik Nagar) has been a non-profit organization since 2007. IVS has worked on various projects and master training sessions with artisans from all over Pakistan. Textile Design department faculty is always in close contact with AHAN and helps in hosting training programs for the crafts persons. The design intervention Major student works with various artisans through AHAN on different textile crafts such as Ralli, Basketry, Embroidery, Ajrak etc. Recently the final year students did a project with AHAN to develop their outlet for handmade goods in which they intervened designs for home textiles. Learn more>>
Karachi Vocational Training Centre (KVTC)
The Department of Fine Art at IVS has been conducting drawing and painting classes once a week for special needs children with mental and physical disabilities for the past three years. Classes are arranged free of cost under the school?s community service philosophy and conducted in the Fine Art Studios by Fine Art Faculty members and alumni.
Child Aid Association – National Institute of Child Health
The students of Painting as a Major worked on a community project in January 2011, decorating the Pediatric Cancer ward of the Child Aid Association at NICH. The students spent five weeks redesigning and painting the wards, corridors, waiting and reception areas, rejuvenating the environment with brightly colored images and motifs.
Department of Architecture – Community base work
The Department of Architecture was awarded a project of the Karachi Port Trust for the development of Sands-pit as a resort. Work on the project is expected to commence soon with several architecture faculty involved. In addition, the Department of Architecture has initiated a project for the development of the shrine at Sehwan Sharif, Sindh in collaboration with the Centre for Social Sciences set up by the Alliance Francais in Karachi. The project will be carried out by students, but will be jointly managed by the faculty of the Liberal Arts program and the Department of Architecture.