Nieves Tapia is the Founder and Director of the Latin American Center for Service-Learning, a major provider of training, program development assistance, and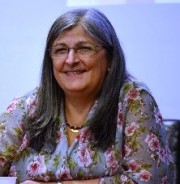 research in Latin America and beyond, and a partner regional organization of the Talloires Network.  From 1997 to 2009 she initiated and coordinated national service-learning programs for the Argentina Ministry of Education.  In 2002 and 2003 she coordinated the Solidarity Program Schools for the city of Buenos Aires.
A professor history with over 30 years of experience in tertiary and secondary education, she is the author of numerous books and articles about service learning in Spanish, English, Portuguese and Italian. A pioneering leader in higher education civic engagement (and in primary and secondary education as well), she has delivered speeches at higher education conferences in many countries including Ireland, Australia, Spain, South Africa, Malaysia, Saudi Arabia, and U.S.  Prof. Tapia was a founding board member of the International Association for Research on Service-Learning and Community Engagement. She has participated in numerous national and international selection panels including the Presidential Award Solidarity Schools in Argentina and the Talloires Network's MacJannet Prize for Global Citizenship and Youth Economic Participation Initiative.