Notre Dame University – Louaize (NDU) is a private, Catholic university in Lebanon. It began in 1978 as the Louaize Center for Higher Education (LCHE) and became Notre Dame University in 1987. NDU now has seven Faculties and over 5,000 students. NDU has a strong commitment to community engagement and service. According to its mission statement, NDU "seeks to provide comprehensive quality education that fosters excellence in scholarship, lifelong learning, enlightened citizenship, human solidarity, moral integrity, and belief in God. . . Its profound aspiration is to prepare its students to be future leaders who can exercise reason upon knowledge and shape a world of truth, justice, love and freedom." NDU's website>>
Community Service Office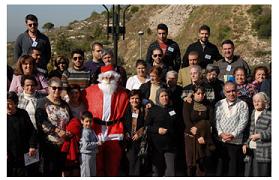 In fall 2008, Notre Dame University (NDU) cemented its commitment to fostering its students' social responsibility and commitment to the Lebanese community through launching the Community Service Office (CSO). The CSO facilitates students' participation in the development of their local communities. By providing students with opportunities to directly benefit their society by working with its non-profit organizations, the CSO seeks to enhance the learning experience with an outlet for students to actualize their potentials by planning projects and seeing them through to fruition. This experience allows students to transmit their shared experience at NDU to their communities, countries, and families as well as instilling them with empathy, ethics, and social commitment.
As a first step, the CSO reached out to NDU student clubs to launch the project Building Lebanon by Employment to Self-Sufficiency (BLESS). BLESS aims at providing employment for the severely underprivileged in the Naba'a-Borj Hammoud area, thus bringing them out of poverty.
In Spring 2009, the CSO announced cooperation with Teach for Lebanon (TFL), an NGO aiming to eliminate educational inequality in Lebanon while fostering youth leadership and promoting civic engagement.
Common Platform for Bridging World Cultures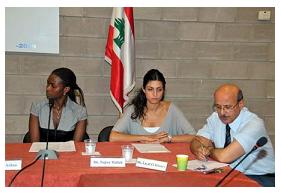 The Panel Discussion Series, "Common Platforms for Bridging World Cultures," was proposed to commemorate the EU Year of Cross-cultural and Inter-Cultural Dialogues (2008). This series of panel discussions addresses cross-cultural and intercultural dialogues as an endeavor to locate common grounds with the "Other". In each panel, full-time faculty members and selected students working under the direct supervision of a faculty member may address a particular theme of cross-cultural dialogue. So far three panel discussions were organized in Spring and Fall 2008, and Spring 2009. Learn more>>