Association of Commonwealth Universities


The Association of Commonwealth Universities (ACU) is the world's first and oldest international university network, established in 1913. A UK-registered charity, the ACU has over 500 member institutions in developed and developing countries across the Commonwealth. Drawing on the collective experience and expertise of our membership, the ACU seeks to address issues in international higher education through a range of projects, networks, and events. The ACU administers scholarships, provides academic research and leadership on issues in the sector, and promotes inter-university cooperation and the sharing of good practice – helping universities serve their communities, now and into the future.
The Global Alliance on Community-Engaged Research (GACER)
The Global Alliance on Community-Engaged Research was created by representatives of universities, networks and civil society organizations at the May 2008 Community University Expo Conference in Victoria, BC, Canada, hosted by the University of Victoria. The International Development Research Corporation of Canada funded a specific Global Networking meeting on May 5th 2008 at which representatives of 14 countries throughout the world developed a Declaration of The Global Alliance, which was then endorsed by many of the 600 delegates at the conference.
Global University Network for Innovation (GUNi)

The Global University Network for Innovation (GUNi) is an international network created in 1999 by UNESCO, the United Nations University (UNU) and the Universitat Politècnica de Catalunya – BarcelonaTech (UPC), after UNESCO's World Conference on Higher Education (WCHE) in 1998, to give continuity to and facilitate the implementation of its main decisions. Ten years later in 2009, GUNi played a significant role in the second WCHE, following its mandate to further reflection and action frameworks to facilitate the exchange of value between higher education and society globally.
Innovations in Civic Participation


Innovations in Civic Participation (ICP) is a registered 501 (c)3 non-profit organization that supports the development of innovative, high-quality youth civic engagement policies and programs both in the US and around the world. ICP is a leader in the global movement to promote sustainable development and social change through youth civic engagement. ICP embraces a positive view of young people that recognizes their potential to create positive and lasting social change in their communities through active engagement and service. ICP works with a broad range of partners to pilot and spin-off self-sustaining programs, and build coalitions and networks to affect public policy in order to create government investment in national service.
The Kettering Foundation
The Kettering Foun

dation is a nonprofit operating foundation rooted in the American tradition of cooperative research. Kettering's primary research question is, what does it take to make democracy work as it should? Kettering's research is distinctive because it is conducted from the perspective of citizens and focuses on what people can do collectively to address problems affecting their lives, their communities, and their nation.
University Social Responsibility Network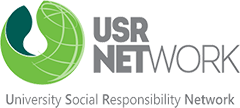 Formation of the USR Network is based on the belief that universities have an obligation to work together to address the economic, social, cultural and environmental challenges in the world and to find solutions so as to make our world more just, inclusive, peaceful and sustainable. The USRN was inaugurated on 9 October 2015 in Hong Kong. It places emphasis on collaboration, coalition, and networking among members and with other networks and alliances. The Secretariat of the USR Network is set up at and supported by The Hong Kong Polytechnic University in Hong Kong.