Pitzer College, part of the consortium of Claremont Colleges, is a private, undergraduate liberal arts college in Claremont, California, 30 miles east of downtown Los Angeles.  Pitzer was founded as a women's teaching college in 1963 by Russell K. Pitzer and became a co-educational institution in 1970. The college has an approximate enrollment of 1,025 students each year.  Pitzer offers an alternative liberal arts education focused on a deeper understanding of humankind, and produces socially responsible citizens through an education that emphasizes social justice, intercultural understanding, and environmental sensitivity. Its educational philosophy is to enhance individual growth while building community. Pitzer College's website>>
Community Engagement Center (CEC)

The Community Engagement Center (formerly the Center for California Cultural and Social Issues) aims to establish community-based pedagogy into the College's agenda. The Center provides financial, technical, and logistical support to develop community-based projects and an institutional infrastructure to sustain and evaluate them. In order to achieve the goals of community partners, the Center engages international, national and local resources in a cooperative network. Pitzer students volunteer over 100,000 hours of service annually with local community partners:
At Camp Afflerbaugh-Paige, a juvenile detention camp/high school, Pitzer students tutor, mentor and offer enrichment programs.
The Costanoan Rumsen Carmel Tribe works with Pitzer volunteers on legal rights, health care access, research projects and college mentorship.
Pitzer volunteers provide mentorship and college counseling at nearby high Schools.
Leadership in Environmental Education Program teaches elementary kids from diverse backgrounds about ecology and environmental concerns.
The Pomona Economic Opportunity Center provides a safe, legal site for day laborers to gather and act to ensure safe, fair working conditions. Pitzer students offer ESL classes, develop health care service networks, negotiate for workers and mediate conflicts.
At the Heman Stark Youth Correctional Facility, Pitzer students work with incarcerated young men.
With Study Buddies, Pitzer community members tutor and mentor at-risk K-8 kids.
REACH LA provides training in health education, media arts and technology. Pitzer students work with youth on a magazine and documentaries
Study Abroad Service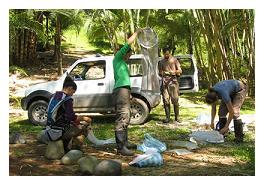 Pitzer College's semester and year-long study abroad programs are informed by a strong commitment to cultural immersion and sustained engagement in local communities. To help students connect deeply in those host communities, the Pitzer program model integrates classroom instruction with active learning experiences in a variety of settings including homestays, volunteer internships, independent research projects and study trips. Pitzer is committed to developing strong relationships with its host communities. On some programs, this results in ongoing community service opportunities that are a component of the core course. Learn more>>
The Claremont International Studies Education Project (CISEP)
The Claremont International Studies Education Project (CISEP) is one of 17 regional centers for the California International Studies Project (CISP), one of nine California Subject Matter Projects (CMSP). Through preparing teacher leaders, it influences the professional practices of fellow teachers, and thus enhances student performance.  CISEP is co-sponsored by academic centers at Pitzer College, Scripps College and the Claremont Graduate University.  Drawing from the resources of the Claremont Colleges, the project offers opportunities for multiple and sustained professional development for K-12 teachers in the Ontario/ Montclair School District, with primary attention being given to areas of international studies/history-social science and multicultural education. Learn more>>