Educated at the South Bank and Westminster Universities in the U.K., and the University of Minnesota, U.S.A., Dr. Kassim-Lakha's career has spanned industrial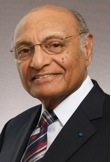 development and higher education. As Founding President and Trustee of Aga Khan University, he led the overall planning, construction and operation of AKU in Pakistan, East Africa, Afghanistan, Egypt, Syria and the U.K for over thirty years. Under his leadership the University attained international recognition for the quality of its academic and service programs in Medicine, Nursing and Education. Dr. Kassim-Lakha has served on the boards of several governmental, professional and research organizations, including the Pakistan Medical Research Council and on numerous governmental bodies and advisory panels in the areas of environmental protection, finance, energy, health and education.
Dr. Kassim-Lakha chaired the government committee that developed and wrote the Environment Protection Act of Pakistan 1977. He co-chaired the Commission for the establishment of the University of Central Asia and was appointed Co-Chair of the Task Force for the Improvement of Higher Education in Pakistan by the Government of Pakistan and subsequently served as Chairman of the Steering Committee on Higher Education, with the status of a Minister of State. The President of Pakistan has recently appointed him to the National Commission for Government Reforms.
He is recognized for his pioneering leadership roles in community service and for enhancing philanthropy as the founding Chair of the Board of Pakistan Centre for Philanthropy. He is a Board member of the Pakistan Human Development Fund established of the government.