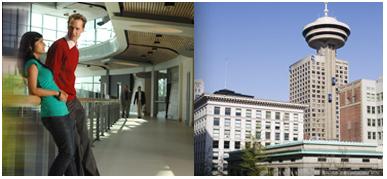 Simon Fraser University (Canada)
Simon Fraser University (SFU) is a public university with three campuses in Burnaby, Vancouver, and Surrey, British Columbia, Canada.  One of the country's leading comprehensive research universities, SFU offers more than 145 undergraduate, graduate and professional programs and has a student population of 30,000 students, including over 5,300 international students.
Engaged University Vision
SFU has embraced a vision for itself as Canada's "engaged university based on its dynamic integration of innovative education, cutting-edge research and far-reaching community engagement."    This vision is put to action in a strategic planning framework that includes an institutional community engagement strategy as a core plan.  The following initiatives are some example of how we are engaging students, engaging research, and engaging community.
SFU Public Square, a Signature Community Engagement Initiative
SFU Public Square is designed to spark, nurture and restore community connections.  The initiative supports SFU's role as a convener of serious and productive conversations about issues of public concern.  SFU Public Square hosts an annual Community Summit to investigate—and recommend practical solutions to—pressing issues in BC and Canada.  Past issues have included the economy and inclusiveness as well as events and dialogues throughout the year. Learn More>>>
Engaging Students and Community Through Engagement Centres
SFU has community engagement centres in Vancouver and Surrey.
The SFU Vancity Office of Community Engagement is located in the SFU Woodward's cultural unit in Vancouver. Connecting with a variety of community organizations, the Office produces public talks and facilitates community partnerships, accessible education opportunities, and SFU student placements with community organizations. Learn More>>>
The SFU Surrey TD Community Engagement Centre fosters connections between SFU and the community with an initial focus on supporting new immigrants and their families. It connects children, adults and community members with SFU students, faculty and staff through a range of courses, workshops and experiences. Learn More>>>
Engaging SFU Student Teachers in Dharamsala, India
SFU's Faculty of Education sends Education professional development program students to Dharamsala, a city 500 kilometers north of Delhi, as part of their practicum. SFU students liaise with Tibetan educators, NGOs, and community members to explore the cultural, historical and socio-economic contexts that continue to influence decisions and practices in the Tibetan education system and to develop understandings of how this system differs from and is comparable to the Canadian system. In collaboration with Tibetan educators, SFU students develop and implement activities within Tibetan schools. Learn More>>>
Inspiring Students with Civic Responsibility
The SFU Semester in Dialogue is a one-semester, full-time program designed to inspire students with a sense of civic responsibility and encourage their passion for improving society. Each semester the program offers an original, interdisciplinary experience that bridges the classroom with the community and creates space for students to reflect on what they are doing and why it matters.   Over the past ten years, topic areas have included urban issues, the environment, religion, health care, food, and the arts. Learn More>>>