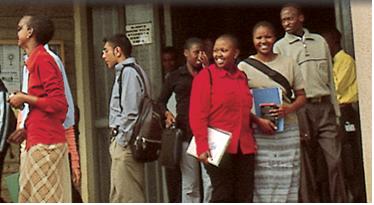 Strathmore was established as a not-for-profit private university in 2008. Students study Accountancy, Administration, Commerce, Finance, Management and Information Technology. Visit Strathmore University's home page>>
Community Outreach Programme (COP)
COP aims at creating awareness of the many varied social, economic and cultural problems experienced in the disadvantaged communities of the society through the training and empowerment mainly, but not exclusively, of children and youth, and by working together with both public and private groups and organizations to achieve this end.
Volunteers work with an institution and engage in a variety of activities:
Teaching
Work in hospitals or clinics
Assisting orphanage
Helping train street youth in sports
Assisting drop-in or reception centres for street children
Providing technical assistance
Community Projects
Strathmore sends teams of students to local community centers and orphanages to deliver clothes, shoes, and other gifts. The students also offer assistance in cleaning and improving the centers, and they engage with the children.