The University of San Francisco (USF), is a Jesuit university located in San Francisco, California. Founded in 1855 as Saint Ignatius Academy, the institution became the University of San Francisco and now enrolls nearly 9000 students. USF's close historical ties with San Francisco are reflected in the University's motto, Pro Urbe et Universitate (For the City and University). USF's Jesuit values include a strong commitment to social justice which has been recognized by the President's Higher Education Community Service Honor Roll and the Carnegie Foundation's Community-Engagement Classification. USF's website>>
Leo T. McCarthy Center for Public Service and the Common Good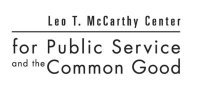 The McCarthy Center seeks to inspire and equip students for lives and careers of ethical public service and serving others. Goals for the Center include promoting the common good for all and contributing to the creation of just social and economic structures that respect and incorporate the needs of all, including the poor and disenfranchised. The Center is dedicated to sponsoring academic programs, public events, service learning opportunities, conferences and faculty and student research that encourage civic engagement and ethical public leadership. The Center will embody the mission of USF which is "to educate leaders who will fashion a more humane and just world." Learn more>>
Community-Based Learning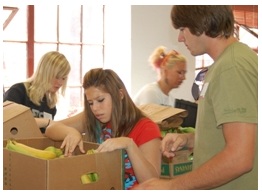 Service-learning courses are an integral component of the University of San Francisco's undergraduate curriculum, providing students with community-based lessons about social justice issues and their own potential to be agents of change. Since 2002, all USF undergraduate students have been required to complete one or more of these courses in order to graduate. The Community-Based Learning program includes:
Faculty Development: the McCarthy Center offers seminars on service-learning theory and practice as well as course development consultations for USF faculty;
Community Partner Development: Seminars and consultations are also offered to nonprofit staff from the community who are interested in fostering sustainable reciprocal service-learning partnerships with USF faculty and students;
Advocates for Community Engagement (ACEs): ACEs make a one-year commitment to work on site at a Bay Area non-profit organization to facilitate meaningful service-learning experiences for USF students. Primarily, the ACE acts as a liaison between the community organization, USF professors, and service-learner students to design and support service-learning projects.
Global Service Learning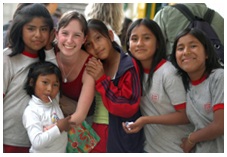 USF has a strong commitment to serving the global as well as local community. Community Connections, a program associated with USF's Computer Science Department, brings students to Peru each year to serve in schools and local organizations to bridge the digital divide. Since 2008, the McCarthy Center has also offered a program in Bolivia and Uganda that begins with a preparatory course in the spring semester, extends through the summer with a ten-week sustainable development internship abroad, and culminates with an intensive reflection and research-focused course in the fall. Learn more>>
Public Service Honors Minor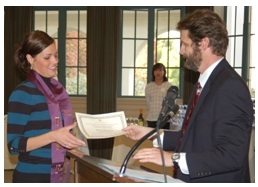 Sponsored by the McCarthy Center and the Department of Politics, the Public Service Honors Minor is an innovative, intense, interdisciplinary program open to all USF students regardless of their major. The Honors Minor provides the analytical, organizational and advocacy skills and preparation needed for sophisticated public service. The three-year selective program includes internships, mentoring, service learning, the study of public service ethics, research, and a senior thesis. Learn more>>