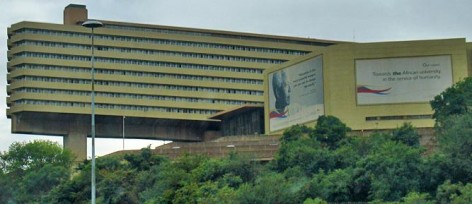 The University of South Africa (UNISA) is a distance education university, with headquarters in Pretoria, South Africa. UNISA was founded in 1876 as the University of the Cape of Good Hope, making it the oldest university in South Africa. It took on the name University of South Africa in 1916, became a distance-learning institution in 1946, and merged with the Technikon Southern Africa in 2004. With its profile as a distance-learning institution UNISA has traditionally served adult learners but boasts a diverse student body numbering approximately 200,000 enrolled students. With the motto "Learning in service of humanity," UNISA has a strong commitment to social responsibility and engagement. UNISA's website>>
Community Engagement Outreach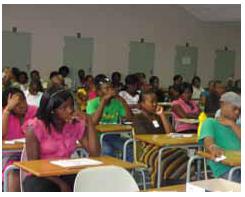 The Directorate for Community Engagement Outreach provides various services and is involved in many community projects. This directorate facilitates community outreach projects and academic citizenship, coordinates community engagement projects, as well as involved in capacity building programs. One such project is the UNISA Bright Site Project in Sunnyside is the first and pilot phase of a strategic project of UNISA in partnership with the Thomas Edison State College, New Jersey. It supports the vision of UNISA in becoming an African University in the service of Humanity. It is also aligned with the mission to utilize resources and capacities of the University in community development initiatives, and collaborative partnerships. It contributes to developing a culture of philanthropic volunteerism among staff and students. The Bright Site Project in Sunnyside will focus on:
Establishment of a counseling and referral service for the Sunnyside community.
Establishment of a support service for UNISA students.
Initiation of a community development process with the Sunnyside community.
Identification and initiation of research opportunities within the Sunnyside community.
Placement of fourth level social work students for a service learning opportunity.
Community Engagement in the College of Human Sciences

Through its Community Engagement initiatives the College of Human Sciences ensures and support's UNISA vision of becoming an African University in the Service of humanity. For example, the Department of Anthropology and Archaeology runs several projects that assist in the development and preservation of community heritage resources make their research data available to as wide a community as possible. Faculty members from the Department of Educational Studies provide extracurricular learning opportunities for students in local schools. Other departments in the College also undertake community engagement projects. Learn more>>
Centre for Applied Psychology (UCAP) Community Engagement Projects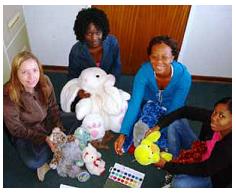 The Centre, hosted by the Department of Psychology, endeavors to incorporate the principles of Community Psychology, which emphasizes community empowerment, collaboration and the application of discipline-specific knowledge to address burning social issues, into all its activities. UCAP provides short courses and workshops for community members in areas such as Victim Empowerment and Support, Capacity Development, Critical Incident Stress Debriefing, Combating Discrimination and Enhancing diversity awareness, and HIV/AIDS Care and Counseling. UCAD partners with OUT LGBT Well-Being, a national health service provider to strengthen community-based (mental) health services and LGBT-related research expertise. UCAP also partners with local authorities to provide counseling services to victims of violent crimes. Learn more>>
Centre for Legal Aid Clinic
The Legal Aid Clinic provides affordable legal aid and legal representation in any court of law, tribunal or body before which a party may be represented by a legal practitioner.  The services are provided for persons who are indigent or for any other reason unable to obtain the services of legal practitioners in private practices. The UNISA Legal Aid Clinic does not only restrict its involvement in the community to its clients, but also reaches out to educate and inform the public about the law and legal procedure. The Clinic is staffed by qualified attorneys as well as candidate attorneys. Read more>>