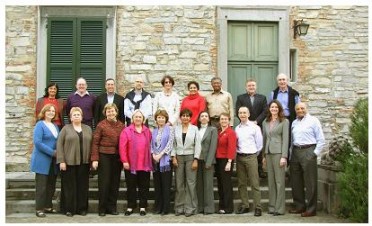 In order to advance civic engagement in higher education, the Talloires Network brought together 20 higher education leaders at the Rockefeller Foundation's Bellagio Conference Center in Italy for a unique discussion about the agenda for this important global movement. The network convened the conference, "Higher Education Responding to Social Needs," from March 23-26, 2010 to discuss key issues including new ways of engaging students, faculty, and policymakers; how best to measure and communicate the importance and value of higher education civic engagement; and the relationship of the global Talloires Network with its regional partners around the world.
The participants represented nine countries from six continents and included Talloires Network Steering Committee members and staff, regional partners, and funders. The participants brought a range of unique perspectives on how to be responsive to the needs of particular communities. As Shamsh Kassim-Lakha, founding president of Aga Khan University, put it, "Universities have an obligation to improve the quality of life in their host communities by working with communities on needs that are defined by those communities."
The participants, many of them current or former university presidents, also stressed the role of leadership in fostering social responsibility in higher education. Margaret McKenna, President of the Walmart Foundation and former President of Lesley University, argued "University presidents should go out and model the behavior they want their students to show."
Ultimately, the Talloires Network's vision for the future is a world where universities around the globe are a vibrant and dynamic force in their societies, incorporating civic engagement and community service into their research and teaching mission. According to Lawrence Bacow, previous Chair of the Talloires Network Steering Committee, "For the past 20 years higher education all over the world has been focused on job preparation and economic development.  We must not also lose sight of one of the original purposes of higher education – preparing students to be active and engaged citizens in their societies."
Read the Conference Agenda>>

View the list of participants>>
Read Participant biographies>>
Conference Presentations
One of the key goals of the Bellagio Conference was to share information about different regional contexts for higher education civic engagement and to discuss the relationship between the global Talloires Network and its regional partners. Representatives from our regional partners from around the world presented on their local context, focusing on the opportunities and challenges for implementing civic engagement in higher education.
Russel Botman, Rector and Vice-Chancellor of Stellenbosch University in South Africa presented "Hope in Africa: Human development through higher education community interaction." View the presentation>>
Yazmin Cruz, Project Manager, Global University Network for Innovation (GUNI), presented on GUNI's work worldwide. View the presentation>>
Saran Kaur Gill, Deputy Vice-Chancellor for Industry and Community Partnerships at the Universiti Kebaangsan Malaysia: "Engagement in Higher Education in Malaysia and South East Asia." View the presentation>>
Piyushi Kotecha, CEO of the Southern African Regional Universities Association (SARUA): "Civic Engagement and Social Development," focusing on the regional context in southern Africa. View the presentation>>
Jan Reid, Vice-Chancellor of the University of Western Sydney: "Australia: Civic Engagement in Higher Education." Read the presentation>> 
Maria Nieves Tapia, Director of the Latin American Center for Service-Learning (CLAYSS): "Higher Education Community Engagement in Latin America." View the presentation>>