Building a Learning Community through a Transdisciplinary Multi-layered Approached (2015)
Hong Kong Baptist University (Hong Kong)
Building a Learning Community through a Transdisciplinary Multi-layered Approach was founded in 2012 with the aim to establish a Community of Practice consisting of academics, students, elderly community members and secondary school students. Using a "trans-disciplinary, three-layered approach," participants at each layer are empowered to engage problems and work collaboratively to bring about changes and improvement in the community. Emphasis is put on social aspects of community development and teamwork. The learning community, which meets weekly in person, infuses academic and professional knowledge while integrating with practices and connecting with society. In this program, the elderly sector has been chosen to be the pilot project and has very good results so far. The model and approach are expected to be applicable to other community sectors and disciplines.
Ecoversity StuDent Engagement (2011)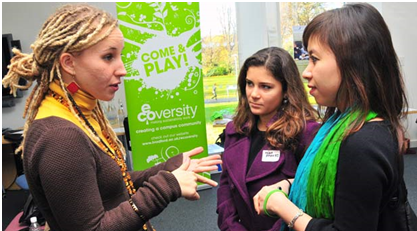 University of Bradford (United Kingdom)
The Ecoversity StuDent Engagement program engages students in the development of sustainability and environmental management. The name given to the program in 2007 – Ecoversity StuDent – reflects the focus on student content and the impact that students can make. The main goals of the program are to generate campus wide student participation and involvement in campus greening projects,  develop understanding of practical Sustainable Development (SD) as well as making an effective and long lasting contribution to the sustainability performance of the University, transform student lifestyles both on and off campus, engender a positive SD related student experience and support for SD, and develop student leadership and student role models for SD in support for the student body, the University and the wider community. These goals have been achieved through the development of a network of Student Ambassadors, Interns and Actioneers / Volunteers who are dedicated to the promotion and practice of sustainable development at both the university and the community of Bradford on a wider scale. The program has successfully recruited 50 students per year as Ambassadors (peer-to-peer educators initiating events, actions and activities to engage and inspire fellow students); Interns (working on short-term, one-off initiatives of their own design); and over 250 Actioneers (working as volunteers on these projects).  Through Ecoversity StuDent Engagment, students have gained valuable transferable skills (e.g.  film making, web-site design, journalism, report writing, project management and presentation skills), while increasing biodiversity on campus. Learn more>>
Inkanyezi (2009)
University of Cape Town (South Africa)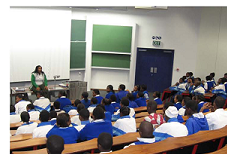 Inkanyezi is a student-founded and -run organization that provides career and higher education mentoring to high school learners from predominantly previously black and coloured disadvantaged peri-urban communities in Cape Town. University students not only provide information and resources, but also offer critical support and encouragement to young people who do not traditionally have access to higher education. Inkanyezi organizers have developed their own curriculum, which they have made open source in order to allow other organizations to use and build upon it. Program participants have gone on to enroll in universities and some are even attending UCT and working with Inkanyezi as volunteers. Inkanyezi is a member of Ubunye, an umbrella organization at UCT consisting of several student-run community engagement groups. Learn more on Inkanyezi's website>>
Innovative Engineers (2014)
University of Minnesota (USA)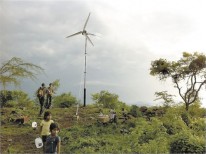 Innovative Engineers is a student led, run, and focused initiative. It was established in 2009 by a small group of engineering students who were inspired to explore the possibilities of clean energy and community development. Innovative Engineers has three goals:  to turn students into engineers by way of hands-on work and strong communication skills, to bring renewable energy to communities in need, and to build a strong two-way, enduring relationships with every party they work with. Currently, the program focuses on the Jinotega region of Nicaragua and has established a branch in Mexico City as well. By working closely with the community over an extended period, Innovative Engineers is able to cultivate strong relationships across the community and identify the true needs within the community. Learn More>>
TeachOut (2009)
University of Cape Town (South Africa)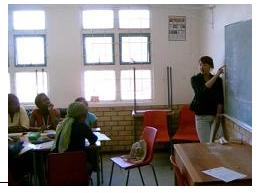 TeachOut was founded in 2003 with the goal of helping increase the number of learners from disadvantaged schools passing entrance examinations and attending tertiary education institutions. University students tutor 10th, 11th, and 12th graders in key subjects and act as role models. The program also instituted a Functional English project to help improve younger learners' spoken English skills. TeachOut is entirely student-run, and some former program participants are now volunteers. It is a member of Ubunye, an umbrella organization at UCT consisting of several student-run community engagement groups. Learn more on
The Red Project (2010)
Universiti Kebangsaan Malaysia (Malaysia)

The Red Project is a collaborative program to deliver HIV/AIDS education to youths through peer educators. The objectives of the program are to increase awareness about HIV/AIDS amongst youths, to reduce stigma and misconceptions towards HIV/AIDS and to provide a platform for local youths to interact with international students from diverse backgrounds. In 2009 alone, the program managed to educate 1,988 people with 36 education workshops. Twenty seven entities were educated which included residential colleges and faculties in UKM, colleges and universities, schools, companies, hospitals, conferences and clubs. Visit the project's website>>
Robogals (2012)
University of Melbourne (Australia)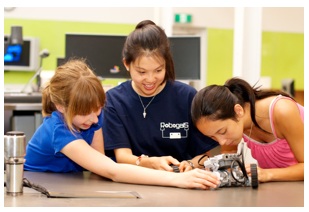 Founded in 2008 as a student-run organization at the University of Melbourne, Robogals seeks to increase female participation in engineering, science and technology through engagement with primary and secondary school students. From its beginnings at the University of Melbourne, Robogals has now grown to 20 university chapters across Australia, the UK, the USA, Ireland, the Netherlands, and Japan.
Through a number of programs and projects, Robogals aims to substantially increase the number of young women pursuing engineering in their tertiary studies and careers. Robogals targets girls in grades 5-7 with fun, educational robotics workshops that aim to introduce 'engineering' into the girls' vocabulary, and show that it can be fun and exciting. Teachers have reported an increased interest in engineering among their students following visits from Robogals. Since July 2008, Robogals has run robotics workshops for over 4000 girls. Learn more>>
Township Debating League (2009)
University of Cape Town (South Africa)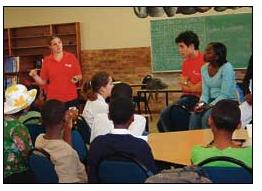 The Township Debating League is a student-run organization launched in 2003 to provide opportunities for the youth of South Africa to develop critical thinking and debating skills through regular workshops, training days, and tournaments, which encourage the youth to become confident, independent-thinking, young leaders who are socially aware. UCT students with backgrounds in debating work with learners from under-resourced high schools in the townships who would not otherwise have any extra-curricular enrichment opportunities. These learners often have limited English and literacy skills, and the TDL helps them improve both their oral and written English, increasing their educational and employment prospects. TDL also provides a forum for participants to learn about and critically analyze current affairs issues, and to realize that their voice is important. UCT student volunteers often develop lasting friendships with the learners from the program, and keep in touch with them after they graduate. Learn more on the TDL's website>>
Students' Health and Welfare Centres Organisation (SHAWCO) (2009)
University of Cape Town (South Africa)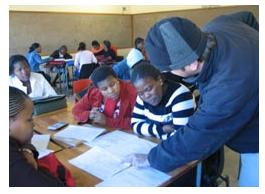 Established by a medical student in 1943, SHAWCO has remained a student-led organization and has grown to over 1700 student volunteers. It started as a welfare-type health program, but with the transition to democracy in 1994 SHAWCO moved from welfare to a development model – still running primary health care clinics, but moving to skills development and education programs. SHAWCO is divided into two main service sectors: SHAWCO Education and SHAWCO Health. SHAWCO Education addresses significant gaps in the current schooling system by offering after-school and weekend tutoring in a range of subjects to Grade 3-12 learners from disadvantaged areas across the Cape Metropole. SHAWCO Health addresses lack of access to primary health care in our communities by providing mobile medical, health and rehabilitation, health promotion and HIV counseling and testing services to 6 different communities on a weekly basis, and a specialized pediatric clinic on a monthly basis. Learn more at SHAWCO's website>>