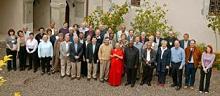 September 15-17, 2005
Tufts University European Center
Talloires, France
The 2005 Conference was the fourth in a series of Talloires conferences bringing together university leaders from around the world at the Tufts University European Center in Talloires, France. Each previous conference addressed salient issues of our time and resulted in a declaration that communicated recommendations about future university roles on the topic.
This fourth conference offered leaders the opportunity to spend three days discussing their institutions' work to educate future generations of community leaders and to mobilize the resources of their institutions to strengthen social and community development. Click here to read the 2005 Conference Report.
Co-sponsored by: Innovations in Civic Participation, Campus Compact, the Association of Commonwealth Universities, the International Consortium for Higher Education, Civic Responsibility, and Democracy, and the Inter-American Organization for Higher Education
Funded by: the Carnegie Corporation of New York, the Ford Foundation, Lowell, Blake & Associates, the Breidenthal-Snyder Foundation, and the Charles F. Adams Trust.