Child and Adolescent Development Service Learning Module (2009)

Walter Sisulu University (South Africa)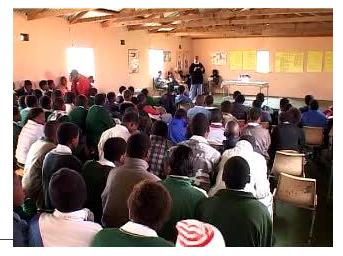 The Child and Adolescent Development Service Learning Module, one of several service-learning courses at Walter Sisulu University, is offered to fourth-year Psychology students as an opportunity to do hands-on counseling work. University students visit orphanages, hospitals, and schools to offer their services to children who have suffered emotional trauma. Because they are often close in age, the children relate to the university students. The service-learning module allows students to gain practical experience while offering counseling to children who would normally not have access to those services.
Chinatown Renewal Project (2011)
California State University, Monterey Bay (USA)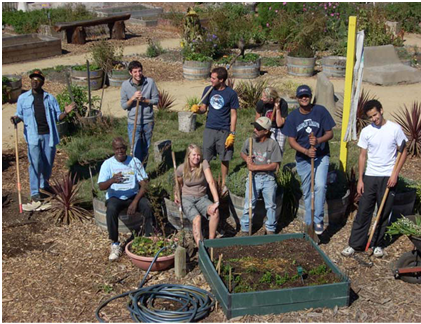 The Chinatown Renewal Project is a comprehensive community-based revitalization effort in the Chinatown neighborhood of Salinas. For over a decade before the project began, students from CSUMB provided support to various agencies working with the homeless and other marginalized residents of Chinatown. Due to the university's commitment to service learning and civic engagement and the trust that had been built with the community, CSUMB was invited to spearhead a new initiative in the hopes of revitalizing what was commonly known as a "Neighborhood Forgotten." Working with the Chinese Confucius Church, the Japanese Salinas Buddhist Temple, the Filipino-American Cultural Center, the Salinas Redevelopment Agency, and the agencies providing services for the homeless in the neighborhood, CSUMB has provided leadership, energy, vision and resources to support this dynamic collaborative process of community revitalization. Over the past 12 semesters, 762 CSUMB service learning students and over 20 CSUMB faculty and staff have made a significant contribution to the multi-dimensional project, including: creating a thriving community garden, a job training program, conducting oral history interviews, collecting historic artifacts and documents, supporting a silk-screening co-operative and founding a fledgling composting enterprise. The Chinatown Renewal Project continues to build on its achievements, striving to reach its goal of creating a thriving and inclusive neighborhood in Salinas' Chinatown and overcoming decades of marginalization and neglect.  Learn more>>
Clinical Legal Education (2009)

National University of Ireland, Galway (Ireland)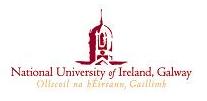 The Clinical Legal Education program at the National University of Ireland, Galway is the first of its kind in Ireland. Final year students in NUIG's Bachelor of Civil Law (B.C.L.) program put their theoretical knowledge and legal skills to work in the wider community. They undertake "real world" placements on a part-time, one semester basis as opposed to sitting a traditional academic module. They earn academic credit, enhance their practical legal skills and, because most of the placements are with organizations and practitioners that work on behalf of the marginalized, see how law can be used to advance the public interest. Learn more on NUIG's School of Law website>>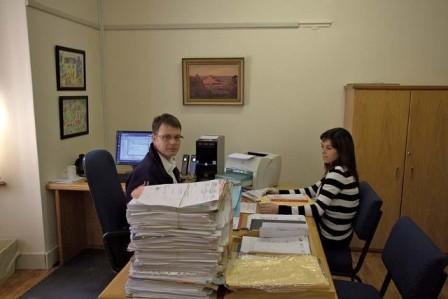 Clinical Legal Education and Community Engagement Program (2011)
University of Pretoria (South Africa)
In 1980, the Law Clinic was founded by students as a voluntary service for those who could not afford legal advice. The Clinic has since grown into an established and streamlined organisation that provides practical legal training to students, quality legal services to the indigent, internships to law graduates (particularly those from disadvantaged backgrounds) and education to the broader community (such as training for paralegals to qualify as debt counsellors). In addition, the Clinic undertakes comprehensive academic and empirical research projects which resulted in reports on irregularities in the garnishments of wages; obstacles in the statutory debt counselling process; and gaps in the National Credit Act. Learn more>>
Community-Based Project Module (JCP) (2010)
University of Pretoria (South Africa)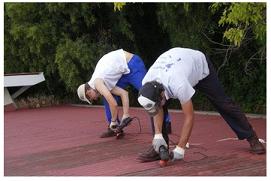 In 2005 the Faculty of Engineering, the Built Environment and Information Technology (EBIT) at the University of Pretoria implemented a new compulsory undergraduate module: Community-Based Project (JCP). This module gives students the opportunity to render a service to a community of their choice. The aim of the module is to develop an awareness of personal, social and cultural values as well as to inculcate multidisciplinary and life skills in the students, such as communication, interpersonal and leadership skills, while providing a service to the community. Students have the option of attempting the 8-credit (80 hours) Community-Based Project module in any one of their undergraduate years of study. It is expected that students work for at least 40 hours in the community, address a specific need identified in the community, and transfer knowledge or a skill in the process. In 2009, 1302 students worked in 457 different projects. Visit the website>>
Consult/Design/Build: Indigenous Australia (2010)
University of Melbourne (Australia)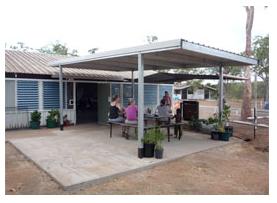 'Consult/Design/Build: Indigenous Australia' is a response to the gap between Indigenous and non-indigenous Australians. The program investigates ways to empower indigenous communities to take control of their housing and help take responsibility for improved livelihoods. Since 2008 groups of fifteen students travel to the Gudorrka and Knuckies Lagoon communities in order to work alongside local guys to improve housing and community facilities. Each group also produces designs  – some of which receive government funding. The following group then builds the designed/funded project and produces another set of designs so the Consult/Design/Build cycle can continue. During ten day visits, both students and community members engage in the construction process guided by community elders, university staff and local trainers. Houses have been renovated, computer labs built and community areas enhanced. The transfers of skills and knowledge between students and community members has enabled us all to imagine a sustainable future as we respond to the cultural, social and economic conditions facing these communities.
The Mobile Literacy Arts Bus (MLAB) (2009)
Syracuse University (USA)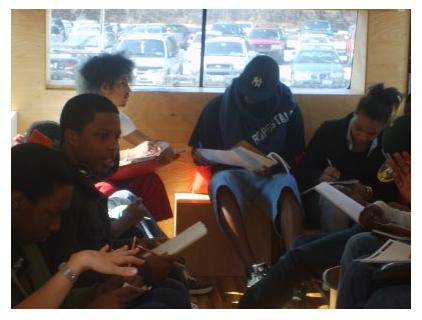 The Mobile Literacy Arts Bus (MLAB) is a mobile classroom, digital photography lab, art and poetry library, and alternative gallery space. The physical lab – a 1984 Recreational Vehicle Bus – was transformed by art and architecture students to serve the local community in a thoughtful, responsible way, directly addressing issues of access, education, literacy, technology, environmental responsibility, and mobility. MLAB's mission is to provide access to technology and space to the under-served populations of Syracuse, New York. Because it is a moving vehicle, MLAB is able to serve multiple schools, sites, and community organizations with access to this mobile space and digital technology.
In the Fall 2008 semester, MLAB completed its pilot semester at a Syracuse City high school. MLAB hosted a literacy/photography curriculum, where 12 Syracuse University students mentored 23 Syracuse high school students. MLAB also worked with 49 Art and Photography students over the course of the semester. In total, MLAB visited three Syracuse City high schools, and initiated community outreach activities, serving over 200 individuals. MLAB also published the first volume of BALM: The MLAB Journal, featuring the visual and written work of the literacy/photography students. Learn more on the MLAB blog>>
Refugee Action Support Program (2010)
University of Western Sydney (Australia)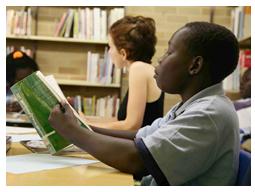 The Refugee Action Support (RAS) program is a partnership of the Australian Literacy and Numeracy Foundation, University of Western Sydney, and the New South Wales Department of Education. The goal is to enhance the literacy and social development of refugee high school students based on small group tutoring by UWS students in school and after-school homework centres across the Western and South Western suburbs of Sydney. UWS pre-service teachers enroll in this elective in a compulsory service-learning course to explore their understanding of approaches to teaching  refugee students and to contribute to refugee family success in our region where nearly half of the residents are first or second generation from another nation. Evaluations of the program reveal positive outcomes for refugee families and UWS students and the program model is being replicated in other universities. Visit the project's website>>
The Undergraduate Semester in Dialogue (2011)
Simon Fraser University (Canada)
The Undergraduate Semester in Dialogue began in 2002 when one of SFU's senior faculty members, Mark Winston, became intrigued by the idea of an intensive cohort program that used dialogue and experiential learning to enhance student engagement with community. Each semester, twenty students from diverse departments are selected for a full-time, 15-credit term. The program's unique structure is designed to address principal challenges for contemporary education: to inspire students with a sense of public responsibility, encourage their passion to improve society, and develop innovative tools for effective problem solving and civic engagement. Each semester the cohort of students develops an original and intensive learning experience that uses dialogue to focus student education on civic issues. Issues are identified 6-8 months in advance through extensive consultations with government, non-profit organizations, businesses, First Nations, academic colleagues, artists, journalists and others. Dialogue has proven particularly effective in forging strong links between coursework and community, creating a blend of attitudes, expertise, and intellectual dexterity that is particularly suited to engaging the myriad and complex problems facing contemporary society. Through Semester in Dialogue, students have produced projects with tremendous civic impact and have led public dialogues on topics such as food security, greening initiatives, and enhancing citizenship. Learn more>>
SAFE Program (2013)
University of Cape Coast (Ghana)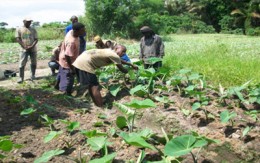 The SAFE Program, a 2-year mid-career B.Sc. Extension Program, was launched in 1993 through the initiative of the Sasakawa Africa Association in collaboration with the University of Cape Coast, the Ministry of Food and Agriculture and others including the Winrock International Institute for Agricultural Development, World Vision International, farmers and Agribusinesses. The academic program serves to reduce the discrepancy between training on campus and the duties performed by Ministry of Food and Agriculture staff in their real work situation by involving students in experiential learning opportunities called Supervised Enterprise Projects (SEPs). The goal of the SAFE program is to contribute to the agricultural development efforts of Ghana through the production of qualified human resource in the field of agricultural extension. Learn More>>
SMExcellence Program (2009)

University of Western Sydney (Australia)

Approximately 30% of small-to-medium sized business (SME) owners-managers fail due to a lack of financial literacy and management expertise. The SMExcellence initiative seeks to address the needs of the Australian SME community by providing essential, free and accessible online training as well as a pathway for owner-mangers to pursue formal training at community colleges. SMExcellence combines the latest open source technology (developed by computing students) to provide learning tutorials that contain text, images, audio, and video applications.
Students from the University of Western Sydney have enhanced their own learning by working with over 50 experienced and successful individual businesses to design, develop and deploy SMExcellence. The program provides experiential learning for students from a range of disciplines (including management, marketing, economics and finance, law, accounting, computing and communication). Final year students work directly with SME owner-managers to create the tutorial's content, website software and multimedia applications. As 55% of University of Western Sydney's students are the first generation to attend a university and often lack the social and peer networks to initially gain entry into the business community, the hands-on work experience provided through the SMExcellence program provides students with a competitive edge in the job market following graduation. Learn more on the SMExcellence website>>
Street Law Service Learning Programme (2009)

Walter Sisulu University (South Africa)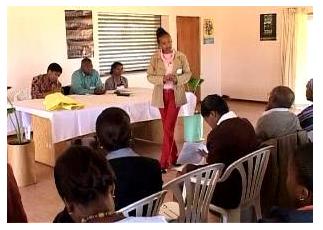 Third-year LL.B students have the opportunity to participate in the Street Law Service Learning Programme, which aims to inform rural community members about their human rights. Students receive training before facilitating workshops in the rural areas. Among the subjects addressed are HIV/AIDS and the law, domestic violence, democracy, citizen participation, and xenophobia. Students are evaluated on their presentations and they help evaluate the workshops. They also volunteer in Walter Sisulu University's law clinic, where community members can seek additional assistance.