American University in Cairo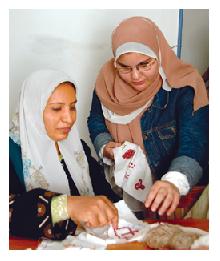 Alashanek Ya Balady (For you, my country) at the American University in Cairo in Egypt was established by AUC students in 2002 and is the community service entity of the AUC's Student Union. AYB's aim is to develop the society of old Cairo, expand the horizon of the average citizens and families there and finally provide opportunities for those who want to improve their situations. The primary activities of the program are eradicating illiteracy, micro-credit, youth development, national educational program, English development, and computer learning.
The program addresses the various problems resulting from poverty. It does not work on a single aspect but it aims at fully developing the community through different programs that will help this community achieve long-term self-sufficiency. The main issues the program works on are eradicating illiteracy, empowering the beneficiaries economically, and developing youth socially and educationally. These issues are significant to the community because it represents a complete cycle of development that includes prevention and intervention programs for different issues that poor communities in Egypt face like unemployment, violence, illiteracy, and an inefficient educational system.
The activities of AYB have had concrete benefits for Ain Al-Seera, the impoverished Cairo neighborhood where they concentrate their efforts. For example, last year seven women in the Eradicating Illiteracy program passed government literacy tests to receive a primary school diploma, 20 adolescents received English instruction to improve their job prospects, and 25 other children received mentoring from AYB members. AYB also has made several microcredit loans. For example, one woman wanted to start a small business; AYB gave her a loan and helped her get the business started. Once she paid back the original loan, they give her a larger loan to help her expand, and she now has the largest food market in Ain as-Seera.
AYB is student-led and run, and remarkably self-sufficient. With some help from faculty members, AYB trains its own volunteers and has independently developed its programs and handbooks. According to Eman Kourtam, AYB's student president, "we train our members intensively on doing social assessments. We contact experienced people in this field from NGO's as well as academic figures. Our goal from this is to help identify the cases that are really in need of our help, and to be able to choose the most suitable program for them. This is because each program has different needs."
Chapters of AYB have also opened at four other universities in Cairo, and a registered NGO has been established to coordinate an expansion of their programs. According to Raghda el-Ebrashi, who helped found AYB as an AUC student and went on to establish Alashanek ya Balady Association for Sustainable Development as a formal NGO, one of AYB's original goals was to create a fundamental shift in the mentality towards volunteering in Egyptian society, from a focus on charity and short term projects to emphasizing long-term development-oriented programs.
The success of Alashanek Ya Balady illustrates how a small group of motivated students can take the initiative to change a community for the better.
Learn more on the AYB website>>