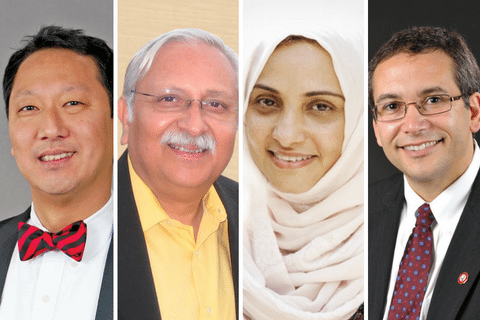 From Right to Left: Santa Ono, Rajesh Tandon, Haifa Jamal Al-Lail, and Adam Weinberg
In preparation for an active year, which will include our global leaders conference in Mexico, the Talloires Network Steering Committee is proud to announce the selection of four new steering committee members to help guide the future of global university civic engagement efforts. These four leaders represent different fields and hail from diverse nations, but their commitment to higher education and civic engagement is apparent in each of their professional trajectories. These are the four new members:
Dr. Haifa Jamal Al-Lail: She has been President of Effat University since May 2008, after initially joining the university in 1998. A respected author and researcher, she is known for her expertise in privatization, women empowerment, public administration and public policy. Before joining Effat University, Dr. Al-Lail was the first Dean of Girls' Campus in King Abdulaziz University.  She is a native of Saudi Arabia and received a PhD in Public Policy from the University of Southern California.
Santa Ono: In 2016, he became the President of the University of British Columbia. As a professor of medicine and biology, Ono has worked at Harvard, Johns Hopkins, University College London, and Emory universities. Ono's research encompasses the immune system, eye inflammation and age-related macular degeneration – a leading cause of blindness. As a university administrator, Ono is also known for his vision beyond the laboratory. He was the first Asian-American president of the University of Cincinnati when he was appointed in 2012. Prior to his recruitment there, Ono was Senior Vice Provost and Deputy to the Provost at Emory University. Ono received his PhD in Experimental Medicine at McGill University.
Adam Weinberg: Prior to becoming President of Denison University in Ohio (United States) in 2013, Adam Weinberg served as president of World Learning, one of the premier international education, exchange and development organizations. Weinberg came to World Learning to serve as the provost of its signature School for International Training (SIT) before becoming president of the parent organization. President Weinberg also served as vice president and dean of the college at Colgate University, where he was a member of the sociology department for more than a decade. President Weinberg attended Bowdoin College. He studied at Cambridge University before earning his master's and doctoral degrees in sociology from Northwestern University. He is a member of the Council on Foreign Relations and of the Higher Education Working Group on Global Issues, and has served on a variety of national and local boards.
Rajesh Tandon: A PhD from Case Western Reserve University, Cleveland, USA and an electronics engineer (IIT, Kanpur) with a degree in management (IIM, Calcutta), Dr. Rajesh Tandon is an internationally acclaimed leader and practitioner of participatory research and development. He founded the Society for Participatory Research in Asia (PRIA), a voluntary organization providing support to grassroots initiatives in South Asia, and continues to be its Chief Functionary. Dr. Tandon has authored more than 100 articles, a dozen books and numerous training manuals on themes such as democratic governance, civic engagement, civil society, governance and management of NGOs, participatory research and people-centered development.
"We are honored to welcome the institutional leadership and organizational support of these great leaders from Canada, the United States, India, and Saudi Arabia," said Lorlene Hoyt, interim executive director of the Talloires Network and faculty member at Tufts University. "We are looking forward to working with each of them, their institutions, and the rest of the Steering Committee in charting exciting new directions for our global coalition."
Fifty-five member universities cast official votes in the election held in December 2016.