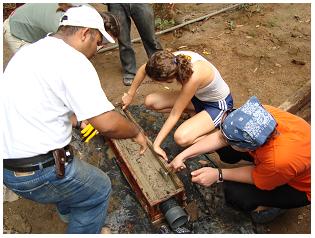 Community Builders was created in order to foster collaboration amongst community members from different cognitive, social, civic, and intergenerational backgrounds and skills. Joining the forces of students from the Institute for Leadership Education at Wartburg College, the Waverly-Shell Rock School District, St. Paul's Lutheran School, Self-Help International, and 25-30 adult volunteers (mostly of retired age), Community Builders created a space for different community members to develop an appreciation for the value of community as well as discover ways to build and strengthen shared communities, both at the local and international levels. Since the inception of the program in 2001, Community Builders has enrolled 720 college students, 1,300 sixth grade students, and 60 adult volunteers.
The work of Community Builders is constructed to reinforce three specific goals. These goals are: 1) build intergenerational learning communities designed to develop and practice the skills of civic engagement and appreciate the value that it can add to the life of the individual citizen; 2) address specific educational needs and interests of all participants in the project, including enhanced reading skills, social and civic skills, and the skills of critical inquiry—all significant attributes to sustainable democratic society; and 3) recognize and use the multifaceted talents and skills that each participant brings to undertake local and global community-based service projects.
In order to achieve these goals, participants in the Community Builders program meet five times throughout the academic semester at local "town meetings." Those who attend the meetings are divided into "neighborhoods," which are made up of two college students, eight to ten sixth graders and one or two adult volunteers. These neighborhoods set up an atmosphere of reciprocal learning, allowing college students to enhance leadership skills, sixth graders to learn about ways in which they can give back to and engage with their communities, and adult volunteers to share their life experiences with younger generations.
Not only do neighborhoods talk about what it means to be an active community member, they also put their words to action by reaching out and devoting service hours to the community. Sixth graders are exposed to ways they can address community needs, while college students learn to coordinate and lead projects. Adult volunteers act as mentors throughout the process, thereby creating a complete collaborative effort.
Service projects, such as cleaning up community centers, are established at the local level so that students can see how they can have a direct impact in their own hometowns. Community Builders has also established international service initiatives by introducing a service program in Nicaragua. During the Winter term, students put together educational and personal hygiene kits, which are then delivered by college students enrolled in Community Builders for the May term. While in Nicaragua, Wartburg students work with Self Help International, a nonprofit development organization, to address issues facing Nicaraguan villages. Students take part in service projects to help improve the infrastructure of the village's education, health, and the environment. According to Self Help International, approximately 1300 people are impacted annually as a result of Community Builders projects.
The students of Wartburg College take on leading roles in the promotion of civic engagement. Through Community Builders, they are introduced to a learning model that takes the role of higher education to the next level. Community Builders likes to call this model "triangulated learning." This three-part approach combines service-learning, traditional learning, and peer learning as a model for leadership education and civic engagement. The college students benefit from this learning style because they learn leadership methods, put these methods into practice, and interact with fellow leaders serving various roles in society. All the while, they are giving back to their communities by taking part in service projects.
Community Builders demonstrates how intergenerational collaboration can foster a stronger body of active citizens. The Community Builders program serves as an excellent model for community engagement and service-learning. By sharing its efforts with both the local and international community, it is making tremendous impacts and improving the lives of many every day. Visit the Community Builders website>>