Drexel University is a private university in Philadelphia, Pennsylvania. Founded in 1891 as the Drexel Institute of Art, Science and Industry, the institution became Drexel University in 1970 and now enrolls over 23,000 students. Drexel's commitment to community engagement is stated in its mission, "To serve our students and society through comprehensive integrated academic offerings enhanced by technology, co-operative education, and clinical practice in an urban setting, with global outreach embracing research, scholarly activities, and community initiatives." Drexel University's website>>
Lindy Center for Civic Engagement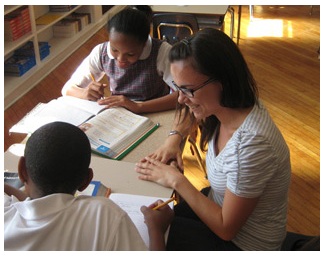 The Lindy Center for Civic Engagement is a department of the Pennoni Honors College offering an interdisciplinary approach to co-curricular and extra-curricular programming. Programs launched by the Lindy Center include:
The Certificate in Civic Engagement, which offers a rigorous intellectual core to civic engagement initiatives and supports students and faculty in community based experiential learning courses.
Drexel Community Scholars, a student leadership program which builds capacity in Drexel's community partnerships and contributes to an empowering experience for students.
The freshman experience course, UNIV 101, a model of community based experiential learning.
The Lindy Scholars Program.
A High School Mentoring Program that matches Drexel students with aspiring high school students in career guidance and college access mentoring activities.
Philip B. Lindy Inner-City Public School Program at Drexel University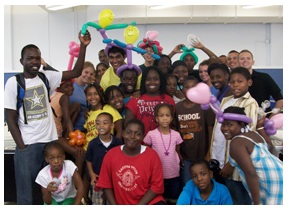 The Lindy Scholars Program provides enhanced educational services to students and their families living in West Philadelphia and attending public schools. The overall goal of the Lindy Scholars Program is to provide mathematics, writing, and literacy improvement programs and related services to selected students in grades 6-8 enrolled in local schools. Drexel staff, faculty, and student volunteers work closely with school administrators, community leaders, students, and parents to help identify needs and then provide services on campus and within the community that are expected to make measurable positive improvements in academic performance and retention. Learn more>>
Drexel Community Scholars (DCS)

Drexel Community Scholars (DCS) is a cadre of student leaders who desire to enhance their classroom learning by putting their skills to work and making a positive impact in the public life of the community. Each fall and spring, cohorts of students are admitted to the program as DCS*Site Leaders and DCS*Project Leaders to serve as liaisons and coordinate activities between the Lindy Center and community partners; recruit and support fellow volunteers (many of them UNIV 101 students); or develop and support special service/advocacy projects. The DCS program is designed so that, while fulfilling terms of service, the DCS will hone leadership skills and build community through an array of programs, activities, and workshops made available through the Lindy Center. Learn more>>