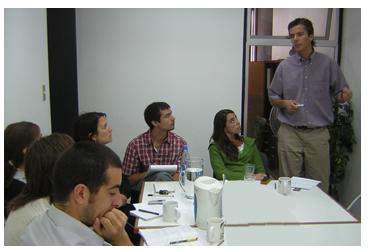 PuentesUC is a program of the Pontifical Catholic University of Chile. In order to foster a greater link between the university and local municipalities, PuentesUC focuses on collaborative learning and development efforts amongst students, professors, town officers and authorities. By utilizing skills and knowledge of both the higher education community and the local community, participants in the program have been able to make vast improvements in living standards and address the needs of the community. Creating this bridge, or "puente" in Spanish, between academia and municipal functions has created a collaboration that maximizes mutual capacities to further learning and local development.
PuentesUC is a program within the Center for Public Policy at the Catholic University. Its general objective is to contribute to formal education and community development. In order to do so, PuentesUC links students and teachers with concrete challenges facing 14 local municipalities. Through its civic engagement activities, the program runs about 200 projects per year, involving more than 1,300 students and 90 academics.
PuentesUC creates a formal link between the university and the local community by assigning program managers to work directly with members of municipalities to address local issues by means of academic disciplines. The municipalities themselves state their requirements based on their daily experience and permanent contact with the communities they serve. These requirements then are translated into academically approachable resources by the University and each institution's program manager. This direct link allows students to engage in highly effective service programs in the local communities. Once service projects are completed, participants from both the university and the municipality share their experiences and knowledge gained. By involving both the university and community members in all aspects of establishing and fulfill program goals, PuentesUC fosters a strong network of civic engagement amongst its students and faculty.
Municipalities have found that the bridge created by PuentesUC has allowed communities to fill gaps in vital social services. When speaking of the city's relationship with PuentesUC, Mayor of Estación Central, Rodrigo Delgaldo, said, "Often municipalities, mainly by resource issues, have limited professional capacity. However, through this program we can access a network of quality professionals that make it possible to move forward in improving the lives of our neighbors." Students participate in service projects that provide a vast amount of services, including communications, urban development, environmental support, housing, healthcare, social management and many more. For communities that need these services, but do not have the means to provide them, students in PuentesUC are there to help.
The link that PuentesUC creates also contributes to the education of university students. PuentesUC raises awareness of the challenges of the local reality. Through research and skill-building, the university develops social responsibility and citizen commitment within its students who serve, linking academic work with the development of the communities. Students are made aware of major social issues and realize how the role they play as citizens and professionals can solve such problems.
PuentesUC is an exceptional university initiative to promote civic engagement amongst its students. This program serves as an innovative model for creating direct links between the university and municipality. Because of its commitment to promote student civic participation, PuentesUC is an ideal program for expanding global citizenship. Visit the PUC Public Policy Center website for more information on PuentesUC>>