The University of Rijeka is a public university located in the city of Rijeka, Croatia. It has its roots in a higher education institution established by the Jesuits in 1627. In the 18th century this university became one of the top universities in the Austrian empire, and the seat of the Royal Academy for seven years. The modern University of Rijeka was established in 1973, and currently has nine faculties, three departments, and one academy, and a student enrollment of over 17,000. The 2007-2013 Strategic Plan for the University of Rijeka calls for it to be a "University that is actively involved in the economy and community development and helping the economic and socio-cultural transition in the society of knowledge." The University of Rijeka's website>>
The Foundation of the University of Rijeka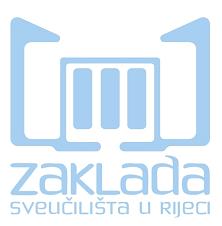 The Foundation of the University of Rijeka is a legal entity established on January 17, 2003 by the University of Rijeka, City of Rijeka and Primorsko-goranska county. The Foundation supports many activities at the University which deal with all three university missions: teaching, research and service to the community. The Foundation is currently implementing one project "Academic community for traffic education" and is a partner on another project "Cleaner Production Promotion Programme for the hospitality industry" which are both strengthening the civic roles and social responsibilities of higher education. Student volunteers are an integral part of the civic engagement projects implemented by the Foundation:
"Academic community for traffic education" is implemented in partnership with Autoklub Rijeka and the Student Counselling Centre. The project began with the purpose of enhancing the quality of traffic education by educating students from the University of Rijeka to implement an educational program called "The second that can change your life" appoved by the Croatian Ministry of Science, Education and Sports. The university also financed the process of making and implementing a guidebook for counselling and crisis intervention for traffic casualties and their families, and also organised a public discussion on a "new approach to traffic safety."
"Knowledge for Funds, Knowledge towards Europe II" is a project with the aim to increase knowledge and expertise of students from the University of Rijeka in the field of preparing project proposals and implementation of projects, especially those financed by the European Union. Upon completion of a two-month training, 15 chosen students write a final paper – a project proposal in areas of special interest to the local community by using the methodology they were taught and practiced. Successful participants also get the opportunity to apply their knowledge by getting involved in the work of the EU Club of the Foundation of the University of Rijeka.
"CP3 Hospitality – Cleaner Production Promotion Programme for the hospitality industry" is a project financed by the European Union and implemented in partnership with Centric Austria International and Cleaner Production Centre of the University of Rijeka. Cleaner production (CP) is a strategy that businesses, particularly in the hospitality industry, can use to improve economic efficiency and their environmental performance at the same time. Cleaner production is a combination of economic and ecological efficiency and is basically about "doing more with less". It means that the hospitality industry can produce services with less energy and fewer natural resources. The overall objective of the project is to increase resource efficiency in the Croatian society especially in regards to water and energy but also other resources. The specific objectives are to decrease water and energy consumption in the hospitality sector; to strengthen the knowledge and capacity of Croatian companies in regards to CP; to disseminate awareness and application of energy and water efficiency throughout the Croatian society. Learn more>>
Finally, the Foundation of the University of Rijeka celebrates "International Volunteer Day" in order to encourage social responsibility by the University, its employees, and its students. Volunteers have worked at a local clinic and a local school on International Volunteer Day. "Celebrating International Volunteer Day presents one of the attempts of the Foundation of the University of Rijeka to encourage employees of the University of Rijeka to actively contribute to the community in which they live and work but also to fulfil one of its program goals – contribute to the development of civil society." Learn more>>