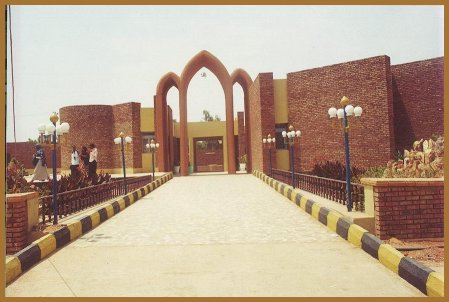 The Ahfad University for Women (AUW) is a private, non-sectarian university for women located in Omdurman, Sudan. Founded in 1966 with 23 students in one department, AUW now has over 5,000 students and offers a five-year Bachelor's Degree in six undergraduate schools and a Master's Degree in two areas. The goal of AUW is to prepare women to assume informed leadership roles in their families, communities and the nation. AUW works to achieve this goal by offering high quality instruction with emphasis on strengthening women's roles in national and rural development and achieving equity for women in Sudanese society. Ahfad University for Women's website>>
Institutional Profile:

"The university's philosophy is to prepare women to assume greater roles in their families and communities, and in the nation as a whole. To that end, the university enrolls women from all over Sudan and prepares them to be proactive change agents and leaders. Civic engagement has become an integral part of the institution's academic activities. The university's policies promote civic engagement as part of its mission. This includes undertaking community development programs to serve the needs of communities; organizing outreach programs to raise awareness and establish networks; and building partnerships with the private sector, government and civil society organizations." Read more of AUW's institutional profile>>
Family Health Center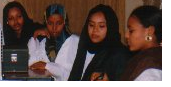 Ahfad Family Health Centre was formally established in 1994 in collaboration with the United Nation Population Fund (UNFPA). The Centre promotes the health of the local community by providing quality comprehensive services (curative, preventive and promotive) to a defined population in the context of PHC strategies. Health education is provided at all levels based on the health status of the population.
Community Outreach Programs
AUW is committed to improving life and opportunities for families in the rural areas of Sudan. This is accomplished through the Rural Extension Program, in which students live in rural areas and participate in projects designed to impart knowledge and organization skills to women living in rural villages. The objective is to help rural women become change agents in their own communities. Read more>>>
Volunteerism and Community Mobilization for the Abolition of FGM
Ahfad University has partnered with UNV, UNFPA, and UNDP to address the high rate of FGM (Female Genital Mutilation) in Sudan. The program mobilizes community members, students, and faculty to conduct peer and formal education. Ahfad's approach to the FGM issue is unique, as it includes males and youth– groups that have previously been ignored– in its volunteer and outreach activities. Program organizers use existing organizations and events to disseminate their message, including in-school sessions, public lectures, open days, theatric events, mobile radio announcements, and sporting events. Community members have also established the NGO Menath, which continues to work with Ahfad faculty, staff, and students to make progress in ending the practice of FGM. Read more>>>