By Maureen Keegan

On behalf of the MacJannet Foundation and the 2015 Selection Committee, the Talloires Network Secretariat is pleased to announce the winners of the 2015 MacJannet Prize for Global Citizenship!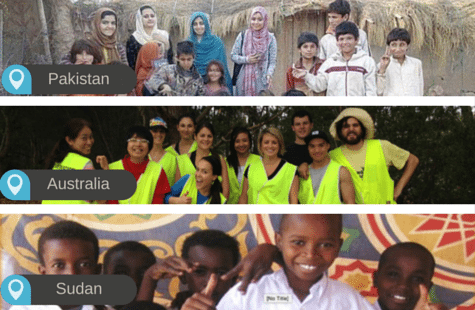 The first place winner, receiving $7,500, is NCSC Education for Empowerment at the National University of Sciences and Technology in Pakistan, which serves a variety of community needs related to education, with the aim of empowering the community. 6,000 students, with the support of a faculty advisor, design and implement community projects as volunteers or through coursework. Students are also required to plan for the continuity of the program once they graduate. The programs include tutoring, parent counseling, career counseling, skill development workshops and vocational training.
The UTS Shopfront Community Program from the University of Technology, Sydney is this year's second place prize-winner, receiving $5,000 to support their work around engaged learning, advocacy and social justice. Shopfront has a curricular component, focused on projects and internships for final year undergraduates and post-graduates as well as the SOUL (Social Outcomes through University Leadership) Award, which is an extracurricular program incorporating skills development and volunteering throughout the degree. All aspects of the Shopfront program are cross-disciplinary, enabling all students at the university to participate and the community partners to take advantage of a wide variety of skillsets.
This year's third place winner, receiving $2,500, is I DEAL Sudan at Ahfad University for Women in Sudan, which provides pyscho-social support for vulnerable children, including those impacted by war, internally displace peoples, children with special needs and children living in extreme poverty. Originally a collaborative project with War Child Holland, the program has since been incorporated into the psychology curriculum at the university. During their fifth year, 120 students practice the skills they are learning in the classroom at six different schools, gaining hands on experience and addressing an important community need.
Lastly, three honorable mentions were awarded to CLiCNews, Dublin Institute of Technology (Ireland); Diplomado en Educacion para el Desarrollo Sustentable, Universidad Santiago de Chile (Chile); and Voluntary Tuition Program, Trinity College Dublin, the University of Dublin (Ireland).
This year, 61 nominations from 48 universities in 17 countries around the world were received for the MacJannet Prize. The members of the Selection Committee were highly impressed by the quality and scope of all of the programs:
• Imran Ho Abdullah, Deputy Vice-Chancellor (Industry and Community Partnerships), Universiti Kebangsaan Malaysia
• Pilar Aramburuzabala, Associate Professor, Universidad Autonoma de Madrid
• Bruno Asselin, Board Member, MacJannet Foundation
• John McJennett, Board Member, MacJannet Foundation
• Claudia Mora, Director, Office of Social Responsibility, Pontificia Universidad Javeriana Cali
• George Openjuru, Deputy Vice Chancellor, Academic Affairs, Gulu University
• Janice Reid, Former Vice-Chancellor, University of Western Sydney
Please visit the Talloires Network website to find out more information about this year's winners, as well as the other finalists, and keep an eye out for next year's MacJannet Prize competition.