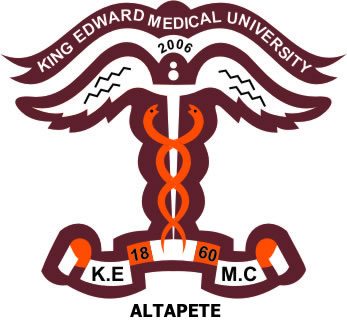 King Edward Medical University was established in 1860. It is one of the oldest medical institutions in the South Asia, and the oldest such institution in Pakistan. It was initially known as Lahore Medical College. Both the college and the attached hospital (Lahore Dispensary) were small compared to the current size. The first academic building was completed in 1883. The university and the attached hospital was built piece by piece by the funding and efforts of several dedicated people in the coming years. In December 21, 1911, Lahore Medical College was rechristened King Edward Medical College, and was updated to the status of an independent, degree-granting university on May 12, 2005
Mission Statement
To serve the health care needs of Pakistan by educating health care practitioners to the highest international standards and stimulating innovation through research.
Goals of King Edward Medical University
The King Edward Medical University shall pursue the following goals:
To seek advances in health sciences to cure and relieve the symptoms of illness, maintain health and foster social prosperity in a thriving environment.
To respond effectively to the ever changing needs of the society through its research programmes, educational facilities and curricula.
To follow the century-old traditions of the College which preceded the University by conducting its work and teaching to the highest international standards and preparing itself to responsibly address the key challenges faced by the society in the coming decades.
To respect the values and goals of human society by embracing principles of justice, equality of all human beings, internationalism and by acknowledging and fostering individual achievements.
Civic Engagement
King Edward Medical University plays a significant role building the economic life and competing with a fast-moving world, under the direction of higher education and medical research and with the help of policy analysis, capacity building, community awareness, technical assistance programs, trainings and advocacy. The major focus of QEC is the development of both human beings and modern societies as it enhances social, cultural and economic development, active citizenship and ethical values.
Students at KEMU have always been proactive in showing initiatives in helping the needy at time of adversity by joining hands with local NGOs and various associations in raising donations, etc.  Students at KEMU developed a culture for volunteering activities such as earthquake relief, flood relief, welfare societies, case works for social welfare by providing psycho-social therapy and need analysis of the underprivileged. Further, students are constantly involved in community projects such as self-reliance, capacity building, awareness programs and patient welfare society.
Most of our students are engaged in Urban Community Development Projects and Medical Social Services Projects in their local community.  In these settings students are engaged in different community welfare activities to highlight various social evils and social problems prevailing in our societies and by also engaging in social research to provide contextual solutions.
For further information visit KEMU's official website.