The Talloires Network Steering Committee met in New York City on August 24-25 to chart the future direction of the network, with a consideration of recent leadership transitions and a look toward the future and the 2017 global conference.
University leaders present at the meeting were Chair Anthony Monaco (Tufts University) and Vice-Chair Cheryl de la Rey (University of Pretoria – South Africa), as well as Lisa Anderson (The American University in Cairo – Egypt), Muhammad Asghar (National University of Sciences and Technology – Pakistan), Sara Ladrón de Guevara (Universidad Veracruzana, Mexico), Olive Mugenda (Kenyatta University – Kenya), Andrew Petter (Simon Fraser University – Canada), Andrew Vann (Charles Sturt University – Australia), and Angie Yuenm(Representing Tim Tong, Hong Kong Polytecnic University). Interim Executive Director Lorlene Hoyt, as well as members of the Secretariat staff, were also present in the deliberations.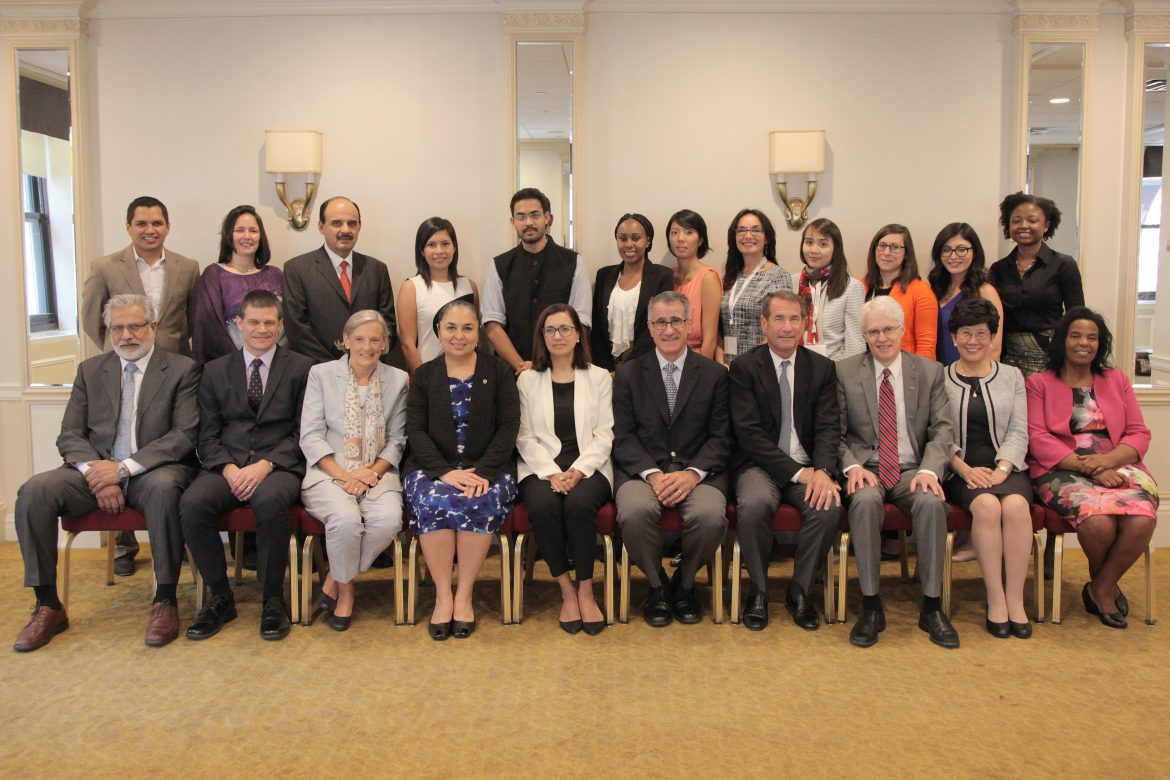 Here are three key decisions that the network's global leadership took during the gathering in Manhattan:
Promoting student leadership through permanent representation in governing body. 
Basavanagouda Patil of India and Purity Wamuyu of Kenya have been designated as the first two student delegates in the Talloires Network's Steering Committee. Through their time as students, both have demonstrated a fresh insight in how universities can better interact with and serve the communities around them. Patil's recent collaborative efforts in launching the international Access to Justice Index demonstrate his commitment to legal access for people of all backgrounds.
Encouraging investment in the network through the introduction of a membership dues system.
In a unanimous vote, the Steering Committee decided to introduce a yearly dues-gathering policy, in order to grow the network's organizational capacities. Since its founding ten years ago, the Talloires Network has relied on impacting grants from founders such as MacJannet Foundation, Santander Universities, The MasterCard Foundation, and others. This new policy will consider economic disparities among member universities, requiring dues on a sliding scale based on countries' rating in the Human Development Index. Dues will range from $500 to $7500 U.S. dollars, depending on the country.
Search for new Steering Committee members set to take place.
With three members set to complete their terms at the end of the year, the board decided to create a four-person subcommittee to recruit new members. Nominated leaders will be presented for membership approval before the end of the year.
The committee will convene again by phone in early 2017, and host another in-person meeting on the eve of the 2017 Talloires Network Leaders Conference in Mexico.