Cape Peninsula University of Technology is located in the Western Cape province of South Africa. Its mission is to develop and sustain an empowering environment where , through teaching, learning, research and scholarship the students and staff, in partnership with the community and industry, are able to create and apply knowledge that contributes to development. CPUT's website>>

Institutional Profile: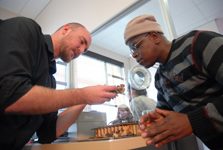 Cape Peninsula University of Technology identified service-learning as a strategy to create an educational environment in which students engage with their wider communities, thereby helping marginalized communities in its area – the Western Cape Province – to attain better living standards. The university has also incorporated service-learning into its research work in order to track the planning, implementation, and impact of its service-learning modules. Read more of CPUT's Institutional Profile>>
Results of CPUT's Community Engagement Activities Survey 2008
CPUT is currently running or developing 29 service-learning projects within a variety of departments including Agriculture, Civil Engineering, Environmental Health, Journalism, and Technology in Education. Students, faculty, and staff are also engaged in a large number of community activities including:
Establishment of food gardens and development of an organic gardening guide for students
Project management, events management and fundraising for non-profit organizations
Recreational sports programs for the elderly and disabled
Nursing and radiography assistance at community health centers
Environmental assessment of community sites
HIV/AIDS community programs
Pre-primary training and materials development for teachers
Horticulture Service Learning
The service-learning (SL) program for Horticulture was initiated in 2005. Since then, students have visited, assessed and worked on community sites, provided on site support, developed an interactive Organic Gardening Guide and produced numerous pamphlets and brochures. Students do a needs analysis of community gardening sites in consultation with community partners and then design and implement training sessions. The community workshops are conducted at the CPUT nursery in Cape Town. Fourteen community organisations are currently served from the local townships and rural areas.
Human Resource Management Service-Learning Program
Students in the field of Human Resource Management can take this course, in which they approach non-profit organizations of their choice and offer their skills and knowledge in human resources. The students conduct a needs analysis, providing the non-profit organizations with HRM services that are very expensive if external consultants are used. It saves the community organizations money and time, and the students gain valuable real-world experience in HRM and get involved in the social services that the particular organization provides to the communities.