The Talloires Network is global coalition of 367 engaged universities in 77 countries that have all signed onto the Talloires Declaration. Housed in the Tisch College of Civic Life at Tufts University, the Network contributes to the global university civic engagement movement by way of three areas of inquiry and action –research, practice, and education. Specifically, the Network:
Conducts and publishes research about the roles and responsibilities of higher education institutions in society. The Network publishes myriad works from peer-reviewed research articles to online news stories. For a list of publications, click here.
Contributes to the practice of civic engagement by building the global movement for civic engagement in communities around the globe through partnerships as well as technical and funding support. The Network manages multiple civic engagement programs, which are listed below.
Educates graduate students at Tufts and prepares them for a lifetime of civic engagement through collaborative research seminars at the Urban and Environmental Planning and Policy (UEP) department. The Network also supports graduate theses focused on the roles and responsibilities of higher education institutions.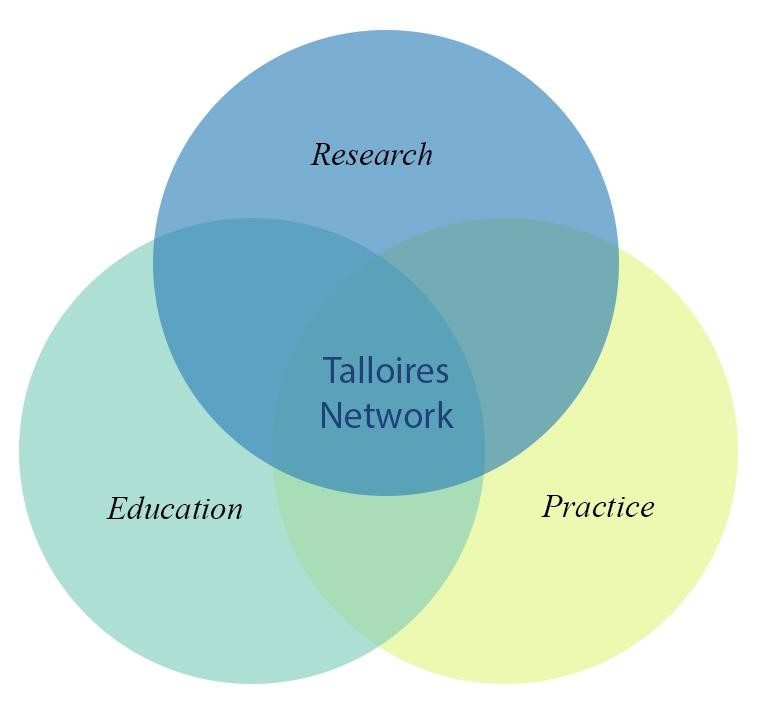 Increasingly beset by perils that defy rigid disciplinary boundaries, borders, and cultural divides, it is more important than ever to educate people to be globally aware and involved in their communities. The movement for civically engaged universities is a contemporary response to the challenges of our times. Our programs demonstrate some of the ways in which we seek to build solutions and hope. The Network's approach is, by design, consistent with the scholarship of engagement — it is a program of inquiry and action in which research, practice, and education overlap and are mutually reinforcing. These programs include:
Anchor Institutions and Community Development: Collaborative research seminars focus on anchor institutions and community development concepts and strategies in U.S. and other national contexts. Anchor institutions are nonprofit or for-profit institutions that are fixed in place and are actively investing in the communities where they are located (e.g., universities and colleges, hospitals, public schools). Students engage with methods of inquiry including personal interviews, case study analysis and digital storytelling. Guest speakers provide insights from practice and professional networking opportunities. Seminar participants encouraged to build solidarity, become a community.
Deliberative Civic Engagement: At a time of political turmoil across the globe, there is space to explore democratic platforms outside of traditional Western liberal, vertically structured representational democratic systems. Together with the Kettering Foundation, TN is leading workshops and publishing research papers about Deliberative Civic Engagement — a model where inclusion, dialogue, and collective decision-making are key — and how universities around the world can lead such initiatives.
Engaged Faculty in Africa: University faculty and staff all over Africa are pioneering innovative projects to cultivate student leaders and prepare them for satisfying livelihoods including entrepreneurship and employment. The Network supports these efforts with the help of the MasterCard Foundation through the African engaged faculty grant initiative. In turn, African university leaders are asked to share their learnings via monthly reflections and webinars and engage in a community of practice [insert link].
Global Conferences: The Network has brought together its member institutions for regional conferences several times – in 2005 in Talloires, France; in 2010 in Bellagio, Italy; in 2011 in Madrid, Spain; and in Cape Town, South Africa in 2014. These conferences enable the Network members to meet one another, exchange ideas, and strengthen their commitment to the university civic engagement movement. It is also an opportunity to strategize about the Network's future. The most recent global conference was held the week of June 19, 2017 in Veracruz, Mexico.
MacJannet Prize: The MacJannet Prize for Global Citizenship was established by the Talloires Network and the MacJannet Foundation to recognize exceptional student community engagement initiatives at Talloires Network member universities and contributes financially to their ongoing public service efforts. For a history of past award recipients click here.
Regional Perspectives on University Civic Engagement: The Network partnered with the Kettering Foundation for several years to explore the ways in which universities around the world can mobilize their resources to create more just and prosperous communities, while at the same time educating civic leaders. A group of professors, community partners, and students, from 7 universities on 6 continents met to exchange ideas and tell their stories of learning-by-doing. Their forthcoming book is a fundamental guide for activist scholars dedicated to the practice of civic engagement and social responsibility.
University Volunteer Program: The Talloires Network University Volunteer Program is a joint initiative between the Talloires Network and the Universidad Autónoma de Madrid. Funded by the Santander Group, the program is currently beginning its pilot year.  The goal of the TN Volunteer Program is to promote global civic engagement and community building through the international exchange of students within the Talloires Network member institutions.
Youth Economic Participation Initiative: The Youth Economic Participation Initiative aims to address the global crisis in youth unemployment by supporting the efforts of universities in developing countries to develop and test innovative university-led models that enable upper-year university students and recent alumni to accelerate their transition to the work force.