Under Professor Tong's leadership and as one of its major activities celebrating its 75th anniversary in 2012, Hong Kong Polytechnic University instituted a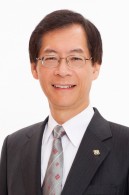 degree requirement that all undergraduates complete a community service learning requirement.  Also in 2012 PolyU hosted "The First Summit on University Social Responsibility," attended by academics from across China and other countries.  Prior to becoming President of Hong Kong PolyU, Professor Tong served as Dean, School of Engineering and Applied Science, George Washington University in the U.S.
An expert in the field of heat transfer, Professor Tong has been actively involved in issues relating to energy use and sustainable development.  He has published over eighty technical articles and edited seven conference proceedings.  He is a Fellow of the American Society of Mechanical Engineers, the Hong Kong Academy of Engineering Sciences.   His personal public service activities in Hong Kong include serving as Chairman of the Steering Committee of the Pilot Green Transport Fund of the Environmental Protection Department, and as a member of the Steering Committee on the Promotion of Electric Vehicles, and the Advisory Committee on Corruption of the Independent Commission Against Corrupt, and the Steering Committee on Innovation and Technology.